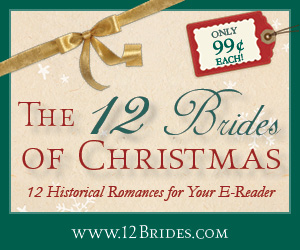 Did you realize there are twelve weeks left until Christmas? Some of you are jumping up and down in excitement like you did as a child … and some of you are screaming and running to the other room.
No worries either way—you are perfectly entitled to respond as you choose. But I hope you'll also choose to join in the fun of a new Christmas love story for every one of those 12 weeks.
Eleven other authors and I have written novellas set in the 1800s. These historical romances are part of Barbour's The 12 Brides of Christmas collection for the holidays. A new story will be released each Monday until Christmas, and is available for your e-reader—even if you don't have one. You can download a free app on Amazon that will let you read on your phone or home computer.
Over the next 12 weeks, I will highlight the novella of the week with a buy link included for your convenience. Only .99!
Here's to enjoying a simpler holiday from days gone by. And don't forget to tell your friends!
Merry Christmas!
Book 1:
The Advent Bride, by Mary Connealy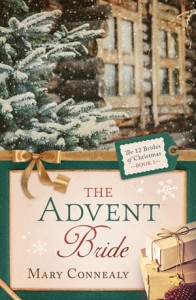 Three lonely people explore the mystery of a puzzle box that takes them through the cold days of December on a journey to Christmas. A journey that soothes their lonely lives and leads them to love.
Join in the life-changing puzzle of the Advent Box.
Mary Connealy is a best-selling author who writes romantic comedy with cowboys. She is a Carol Award winner and a Rita, Christy, and Inspirational Reader's Choice finalist. Her Western series include "Wild at Heart," "Trouble in Texas," "Kincaid Bride series," and many more. Mary is married to a Nebraska rancher and has four grown daughters and three spectacular grandchildren.
Find Mary online at her website and on Facebook. She also blogs on Petticoats and Pistols and Seekerville.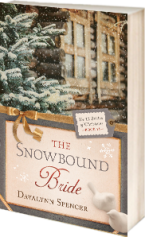 The Snowbound Bride – Dec. 15. Pre-order here!