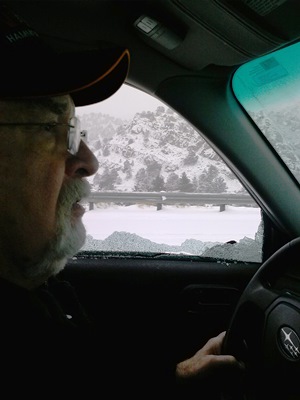 Not exactly the plan. No, I take that back. Not at all the plan, not even a little bit.
Who wants to ride a spinning teacup across a snowy road only to slam into a highway sign?
Sometimes things don't go as planned. I'm sure Mary didn't plan to give birth in a barn, but she made do with what she had.
Our Christmas overnight get-away this year was a long-anticipated break from the norm. Breaking the driver's side window was a last-minute add-on.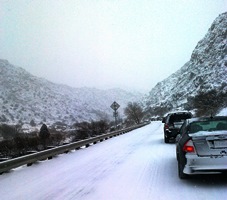 So was the road closure that prevented us from taking the usual 50-mile stretch home and forced us into an over-the-mountain detour. But hey, who's hurrying on icy roads?
At Trout Creek Pass, elevation 9,487 feet, my husband pointed out a herd of elk that had to number in the hundreds. "This wouldn't be so bad if I could roll up the window," he said.
Humor has seen us through hard times before, and on that Dec. 26 return trip home, it got us through a four-hour drive in 10- to 18-degree weather without a window.
Did you know that if it's snowing and your windowless car is not moving, it snows in the car?
No, things didn't work out the way we planned that day. We hadn't planned to see a Rocky Mountain big horn sheep stroll across the road in front of us, or spot a majestic bald eagle surveying the area from atop a bare cottonwood tree, or marvel at an elk herd blanketing a high mountain valley. We hadn't planned to drive across a snowy plain near a rise of steam from a subterranean hot springs or witness the severe contrast of piercing blue sky against blinding white.
But we made it home safely with a tale to tell … and maybe even a great scene to write into my next book.
What adventures did you have this Christmas that were unexpected?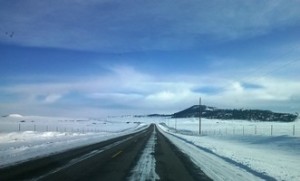 In his heart a man plans his course,
but the Lord determines his steps.
Proverbs 16:9