This final tale in the 12 Brides of Christmas collection is well worth the wait. The delightfully complex heroine had me empathizing with her insecurities and laughing at her dilemmas—not in a bad way. But who doesn't need a good chuckle now and then?
Lighthearted moments in this story are peppered with frustrations and fears, as well as some of the most thoughtful gifts from…well, I don't want to give that away before you get a chance to read.
Do you have a favorite gift you've received, one that meant a lot to you, not for financial value but for heart-felt value?
May you have a truly blessed Christmas this year, and thanks for reading The 12 Brides of Christmas!
About the book: Pastor Clayton Parsons waited a year to bring his fiancée, Karen Briggs, to his new church post. They plan a Christmas wedding, but in the meantime Karen helps the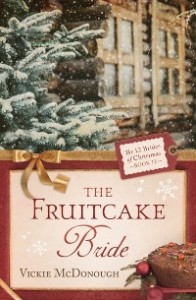 church ladies with various projects, including a bake sale. But revealing her fruitcake recipe could spell disaster for her future in Bakerstown, Missouri.
Vickie McDonough is the author of 33 novels and novellas, including two books in the Texas Trails: Morgan Family series, The Texas Boardinghouse Brides, The Pioneer Promises series and A Pioneer Christmas Collection. Vickie has been married 39 years and she and her husband live in Oklahoma and have four grown sons. Connect with Vickie at her website, on Facebook and at Heroes, Heroines and History.