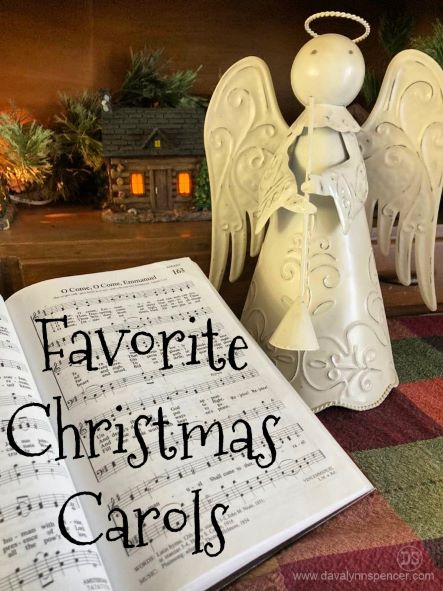 By Davalynn Spencer @davalynnspencer
Christmas carols – I love them. That's because I don't sing them year-round or even in November. I wait until December and then savor them at church, in my home, and in the car on the radio.
Many of the carols have roots in very old traditions, and their background stories are interesting to read. But it's the words, the phrases that reach down into my heart.
One of my favorite carols is "O Come, O Come, Emmanuel" (Latin hymn, 12th century). I sang it as a child, in high school choirs, at church, and at home by myself – just me and my piano.
The chorus of this song captures my heart as it shifts from minor chords of mourning into major chords of joy and declaration:
          "Rejoice! Rejoice! Emmanuel shall come to thee, O Israel!"
Some hymns tell stories, recounting biblical accounts of the birth of Christ, such as "The First Noel" (1833) and "It Came Upon the Midnight Clear" (1849).
"Joy to the World" declares the good news that "the Lord is come" (1719).
Another of my favorites, "O Come, All Ye Faithful," calls us to adore (worship and praise) Christ the Lord.
And the classic "O Holy Night" (1800s) reminds us that "He knows our need – to our weakness is no stranger." It also encourages us to "praise His name forever! His power and glory ever more proclaim!"
I'd love to hear what your favorite Christmas Carol is – there are so many. Include a line or phrase from the song that speaks to your heart.
Comment below with your answer, and I will add your name to a random drawing for an e-book copy of The Snowbound Bride.
~
I will sing to the LORD as long as I live.
I will praise my God to my last breath!
Psalm 104:33
Giveaway - What is your favorite Christmas Carol?
Click To Tweet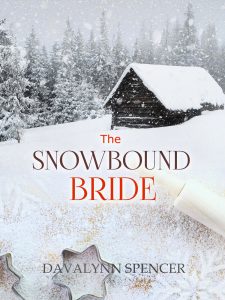 The dog clamped upon the handle of Ara's carpetbag and dragged it to the center of the wagon bed, sitting protectively beside it.
"Well, I never!" Narrowing her eyes, Ara drew herself up. "I'll not be had by a dog."
A slight woof puffed from the pointed snout.
"We'll just see about that." She marched around to the wheel, yanked her skirts above her knees, and climbed the spokes. The dog looked away as if scandalized.
Ara stepped into the wagon bed and froze as mangled strains of a Christmas carol rose from the alley, coming her way. She glared at the dog, who again seized the handle in its jaws. With no other recourse but to leave her belongings and risk running into the man who was following her, she dove to the rough boards, flattened against the outer edge, and jerked a loose tarp over her feet and head.
"God rest ye merry, gentlemen, let nothing you dismay—"
She clapped her hands over her ears. Dismay, indeed. Have mercy!
The dog howled then shook the wagon as it bounded to the edge.
"That bad, ol' boy? I don't sing any worse than you."
A muffled woof and exuberant wiggling indicated its master had returned. A decided tilt as the man climbed to the seat threatened to roll Ara like a Yule log from her hiding place. Whoever he was, he was either rotund or robust. At least he wasn't the man in the brown bowler.
With a light slap and a hearty "giddyap, ol' girl," the mare took to the road. Ara sucked in a dusty breath. Should she rise and call out? Demand the driver take her to the hotel—where there may be no rooms? What if the stranger was watching?
With a drawn-out groan, the dog settled its warm body against her.
O Lord, what had she gotten herself into? ~The Snowbound Bride
Inspirational Western Romance – where the hero is heroic.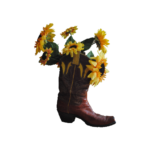 FREE book and Newsletter!
#lovingthecowboy
(c) 2021 Davalynn Spencer, all rights reserved.
#WesternRomance #ChristianFiction #FreeBook #HistoricalRomance #CowboyRomance