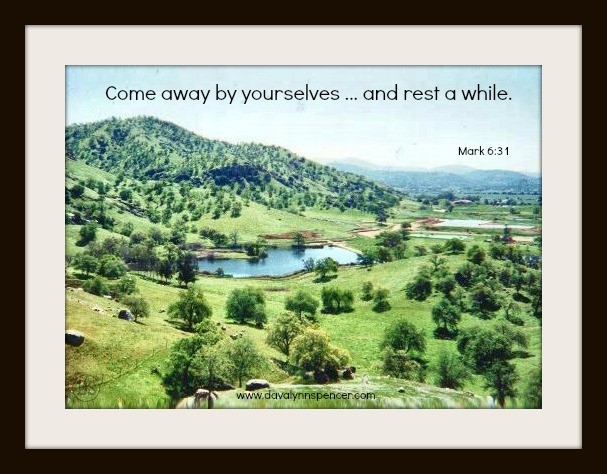 By Davalynn Spencer @davalynnspencer
Is there a place you go to escape the crush and commotion of life? A place where it's quiet enough to hear yourself think? Hear God whisper to your heart.
For Laura Bell in The Miracle Tree, her quiet place was the front porch swing of her hilltop home:
Crickets trilled from the pond, and a bullfrog bellowed in the rushes along the banks. From somewhere to her right an owl offered a throaty call, answered moments later by another. No coyotes whined, no dogs barked, no cars traveled the county road skirting the ranch. All the world slept.

Relaxing, she burrowed deeper into the quilt folds and the movement caused the swing to sway. She could sleep like this, cuddled beneath the stars, in the shelter of her porch.
Jesus encouraged His disciples to "get away from it all" and rest – even in those pre-technology days. How much more must we need such a break?
We can't always go on vacation or take a cruise whenever we want. But we can find a place, perhaps early in the day or late in the evening, where we can be alone.
Leave a comment below about your quiet place or your intention to find one. Your comment will enter you in the random drawing for a chance to win an e-book copy of The Miracle Tree. A winner will be chosen Wednesday night.
~
Come away and rest.
Click To Tweet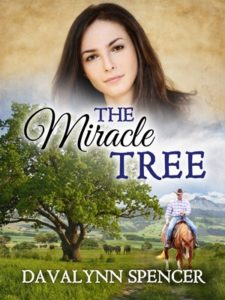 "You're not defined by your injuries, Eli Hawthorne."
Connect with me via Newsletter | Facebook | Pinterest
#lovingthecowboy
(c) 2018 Davalynn Spencer, all rights reserved.
#WesternRomance #ChristianFiction #Cleanromance