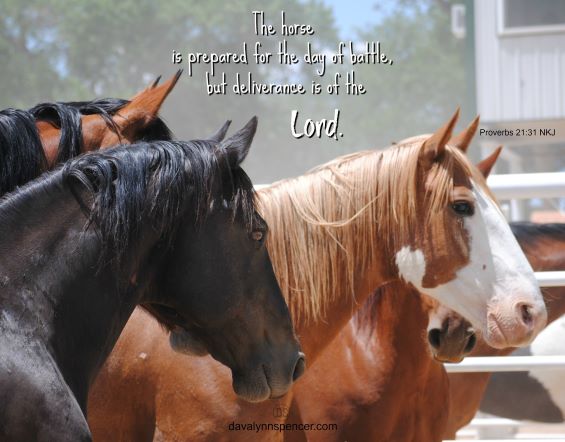 By Davalynn Spencer @davalynnspencer
These beautiful horses are from a string of bucking stock owned by Miller Rodeo Company out of Colorado. Believe me, they are well-prepared for the day of battle – once or twice a week all summer long for eight seconds at a time.
Their brawn and maneuverability far outshine that of their opponents, cowboys averaging between 130 and 200 pounds.
If the fight were always about size and strength, these equine athletes would win every time. But there's more to bareback or saddle bronc riding than who's the strongest.
Timing, finesse, and skill all figure into the contest. So do equipment and attitude.
Seems clear, yet we often miss the metaphor when looking at the bucking circumstances of our life. We fail to see what isn't visible.
The odds may be against us, but the Lord isn't.
We may feel alone in the battle, but we're not.
We may see only the face of the enemy—
loss

pain

death.
But the Lord is there, conquering what we cannot.
Rodeo is not the only arena in which equipment and attitude make a difference. However, we have even more than that on our side, especially when all the timing, finesse, and skill in the world can't prepare us for heart-wrenching surprises.
We have an invaluable promise we can sink our spurs into:
"Deliverance is of the Lord" (Proverbs 21:31).
~
The odds may be against us.
Click To Tweet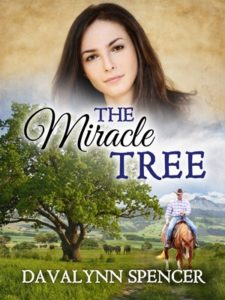 The breeze kicked up and a hushed, breathy sound rasped against the mulberry leaves. Soon the whisper swelled and spread to the porch roof. Heaven opened and rain fell over the house like a veil, soaking the pastures and trees. the cattle stood unbothered in the downpour.
Setting her Bible aside, Laura rose and leaned against the railing, then stretched her hands beyond the eaves. Lightning struck across the valley and thunder quickly followed. Two miles away, at most.
She peered through the grainy dusk, finding the spot where the ancient tree stood anchoring that corner of her land. Anchoring her soul. And with a hint of hope, she walked to the end of the porch and down the steps into the rain.
"I think I get it, God." Closing her eyes, she opened her arms wide like the hawk, lifted her face, and let her tears mingle with the rain. ~The Miracle Tree
Connect with me via Newsletter | Facebook | Pinterest
#lovingthecowboy
(c) 2018 Davalynn Spencer, all rights reserved.
#WesternRomance #ChristianFiction #Cleanromance