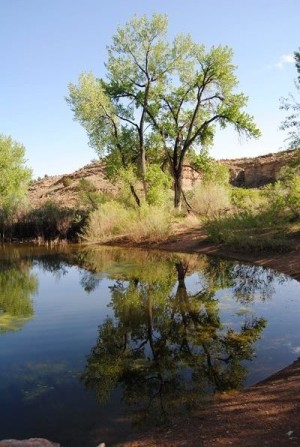 If you could be a tree, what kind would you be?
No intent to wax poetic here. The great tree poem has already been written. But I'm serious – which tree do you like best?
I love pine and cedar–the way they roar with the wind and bear snowy quilts on their winter arms. Yet nothing compares to the golden coins of aspens in the fall, glimmering from the high slopes of Colorado's mountains.
Apple, pear, and apricot trees circle my home, and other glorious trees provide shade during summer's hot days.
A giant cottonwood grows not far from our house, and our dog Blue and I walk past it each morning. A truly seasonal tree, it stands a silent skeleton in winter, barren and cold. In spring, it rustles with budding green, and in fall it mimics its wealthier cousin, the aspen.
But now, full with mature summer leaves, the cottonwood sings, even in a light breeze. Each leaf responds, and the combined whispers raise a chorus akin to a "rushing, mighty wind."
One morning last week as Blue and I passed the tree, I thought of Psalm 1.
Blessed is the man
Who walks not in the counsel of the ungodly,
Nor stands in the path of sinners,
Nor sits in the seat of the scornful;
But his delight is in the law of the Lord,
And in His law he meditates day and night.
He shall be like a tree
Planted by the rivers of water,
That brings forth its fruit in its season,
Whose leaf also shall not wither;
And whatever he does shall prosper.
The tree described by the Psalmist is never a silent winter tree. Not even a spring or fall tree, but a full-leafed tree of summer whose leaves never wither.
It offers wind song and shade and comfort. Why?
Because it's planted by the river—one of God's metaphors for life.
I think we have a choice of what kind of tree we want to be. Our roots can reach down deep into the soil of God's marvelous love and we can drink from His water of life whenever we choose.
God's word pictures surround us, reminding us of His accessibility. We can be a summer tree, full of life and song if we drink in His words, His ways, and His promises.
If you could be any variety of tree, which would you choose?
Then all the trees of the woods will rejoice before the Lord.
Psalm 96:12 NKJV