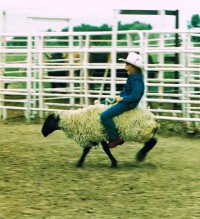 How far can you ride a sheep?
Over the weekend, I attended the Top of the World Rodeo in Cripple Creek, Colorado, to watch our bullfighter son Jake save a few lives during the bull riding. He also chased a few sheep.
Back in the 1800s, cattlemen and sheepherders weren't exactly friends when it came to sharing grazing rights. But at many rodeos today, there's a trailer load of woolies on hand for what's known as the youngsters' Mutton Bustin'.
From all appearances, the event looks a lot like trying to ride a big fluffy cat. There's not much under that fleece but a few bones, and most kiddos bite the dirt on the first jump. Those who hang on half-way across the arena usually end up winning.
Six-year-old Shiloh Young took the honors in his age group last weekend, and as you can see here,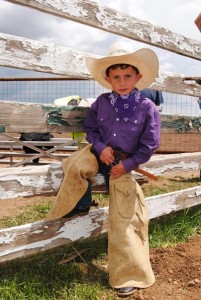 he's quite a buckaroo. Chaps, spurs and all. Ten years from now, he'll probably be entered in the bareback or bull riding.
Before Jake was a bullfighter, both he and his sister tried their hand at the family-favorite event. That's Amanda at the top of this post about to win a buckle in Greeley, Colorado, at the 1994 Rodeo Bible Camp.
If you have a youngster who'd like to try his (or her) grit in your local rodeo's Mutton Bustin' this summer, encourage them to follow these 10 steps:
1. Screw your hat down tight and climb in the chute.
2. Swing a leg over the animal (or get Dad to lift you up).
3. Get a good double-fisted grip of wool.
4. Wrap your legs around tight.
5. Nod your head for the chute gate to open.
6. Hang on until you fall off.
7. Keep your mouth closed.
8. Pick yourself up out of the dirt (or wait for the bullfighters to run out and help you).
9. Throw your hands in the air when the crowd cheers (and they will cheer).
10. Walk back to the chutes like you mean it.
I suppose the term Mutton Bustin' came from the old cowboy phrase, "bronc bustin'." Though with cowboys, it's sometimes a toss-up as to who busts whom.
Life can do that to us—turn us inside out on a dime. But as you can see by the 10 steps listed above, attitude has a whole lot to do with how we fare. The trick is to get up, dust off, and get back on.
Have you ever taken a dusting in life's arena?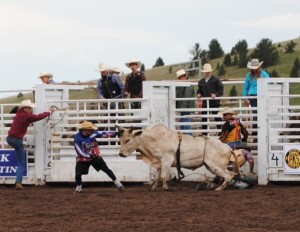 For a timely rodeo-related devotional, check out my guest post at More to Life Magazine and find out why it's not a jungle out there.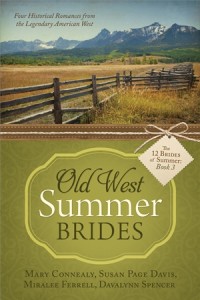 Coming July 14 to select Walmart stores across the country: Old West Summer Brides. Look for my novella "The Columbine Bride" and three other inspirational historical romances.
#lovingthecowboy