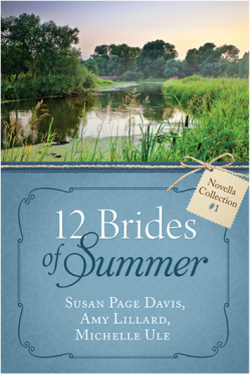 Summer – yea! We're celebrating the advent of warmer weather here in Colorado because we've had rain, rain, rain the entire month of May. Wish I could send some of it to my family and friends in California.
In addition to the joy of blue skies and green growing things, I'm excited about the release of The 12 Brides of Summer. Why? Because I'm one of the brides! Well, not exactly, I wrote about one of the brides – The Columbine Bride.
If you enjoyed my Christmas novella, The Snowbound Bride, then you'll recognize the hero in this summer's sequel to Nate and Ara's romance.
Remember Nate's uncle, Buck? In The Columbine Bride he gets to practice some of his wrangler wisdom on himself  after falling for the two Powell children and their pretty widowed mama.
I know you'll enjoy the eleven other great stories as well – all from the same authors who wrote The 12 Brides of Christmas. And most of the stories are sequels like mine.
The 12 summer bride stories will be released throughout the summer in four e-books with three stories in each one, available for the super price of $2.99.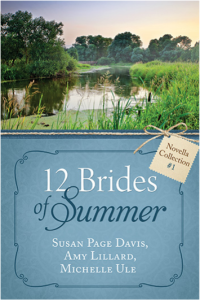 The first collection releases June 1. Book 1 offers Blue Moon Bride by Susan Page Davis; The Sunbonnet Bride by Michelle Ule; and The Wildflower Bride by Amy Lillard. (If you don't want to wait, you can pre-order the other three books right now!)
I hope you'll get your copy today and enjoy these quick but heart-felt summer reads – just the thing to go with a tall glass of cold iced tea.
Unless, of course, it's raining where you are, and then you might want a steaming mug of hot tea.
Blessings to you~
Davalynn Spencer
~loving the cowboy