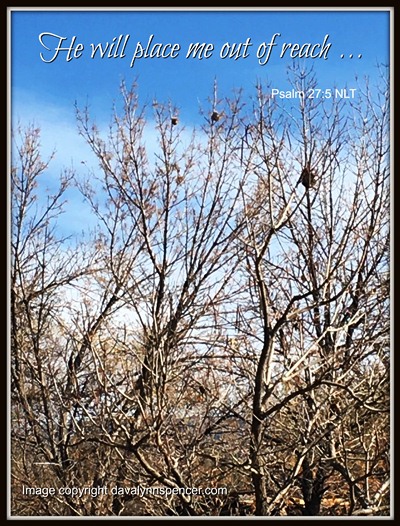 By Davalynn Spencer @davalynnspencer
From where I sit by the wood stove on cold mornings, I can see through the kitchen and out the window to the ash trees bordering my neighbor's property. Stripped by autumn winds, they stand bereft of their fall finery, boney branches scratching the sky.
Three bird nests hang exposed in lofty forks, unprotected from the often-relentless gusts sweeping off the Rocky Mountains.  Those blasts can bend my outdoor thermometer mounting flat against the window frame, yet the nests remain intact, without benefit of nail or wire or human help to hold them in the highest branches.
They are safe.
Safe from assaulting wind and snow and hail.
Safe from my marauding feline huntress.
Safe and awaiting summer leaves that will hide birds returning to raise their young.
One particularly gusty morning when depressing news swept into my home and heart, I looked out at those nests, secure and unmoved, and remembered that God values me more than a whole flock of birds.
I remembered that He said He would set me on high,  lift me above my enemies, and hide me in the shadow of His wings.
And peace settled around me—in spite of the wind that still blew.
May we always find that place of His presence in our homes and hearts, reminding us that His peace is indestructible. For His promises are true.
~~~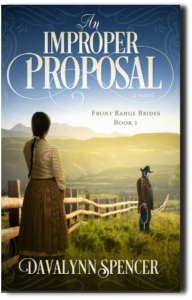 If God gave her peace, then it was hers to reject or accept.  ~An Improper Proposal
Connect with me via Newsletter | Facebook | Pinterest
#lovingthecowboy
(c) 2017 Davalynn Spencer, all rights reserved.