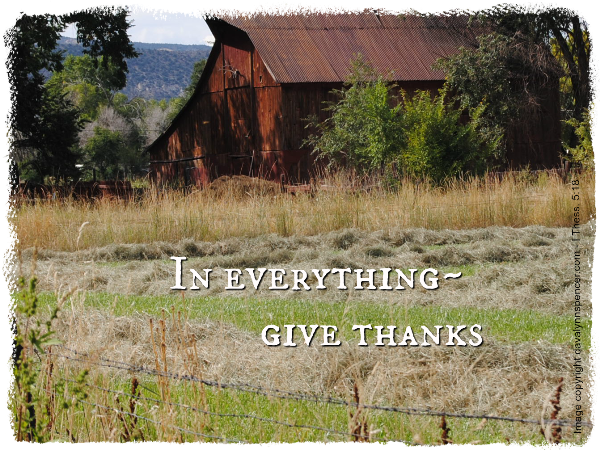 By Davalynn Spencer @davalynnspencer
We hear it a lot: "Be grateful."
Other renditions suggest, "Things could be worse." "You have it better than most."
The Christian-ese phrase I've known since childhood says,
"In everything give thanks, for this is the will of God in Christ Jesus concerning you." (I Thess. 5:18)
Yeah, that.
Some days it's hard to come up with an "everything" list when the craziness whirls, dreams fade, and expectations shatter.
But I've discovered over the years that this thankful-thinking really works. Especially if I don't start with—or wait for—my emotions.
It's not about feeling grateful, it's about being grateful. And aren't we human beings?
Not that we should look heavenward and snipe, "Yeah, God, thanks a lot."
Um, no. Rather, we have a choice. And since our reactions and responses are probably the only things over which we truly have control, why not choose gratitude?
We can start small.
Give thanks for the hot coffee in your cup each morning.
Give thanks for the cup.
How about that person who smiled at us in the market? (If no one smiled, maybe we should start the process.)
Or the glory of changing seasons.
Indoor plumbing. (Seriously, think about it.)
The Bible we read, whether pixel or paper.
Clothes to wear. Food to eat. Breath in our lungs.
The fact that we're on this side of the grass and not under it.
There have been so many times in my life when I wanted to know God's will for a particular situation. The above quote from 1 Thessalonians is a pretty clear directive on one thing that is definitely God's will.
So let's give it a try.
Can you list one thing in the comment section below?
Blessings to you this Thanksgiving.
~~~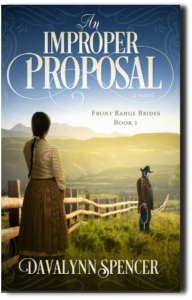 Lying in the mud beneath the wagon, he thanked God for bringing her to him. For he was finally convinced that the Lord had done exactly that. ~An Improper Proposal
Connect with me via Newsletter | Facebook | Pinterest
#lovingthecowboy
(c) 2017 Davalynn Spencer, all rights reserved.