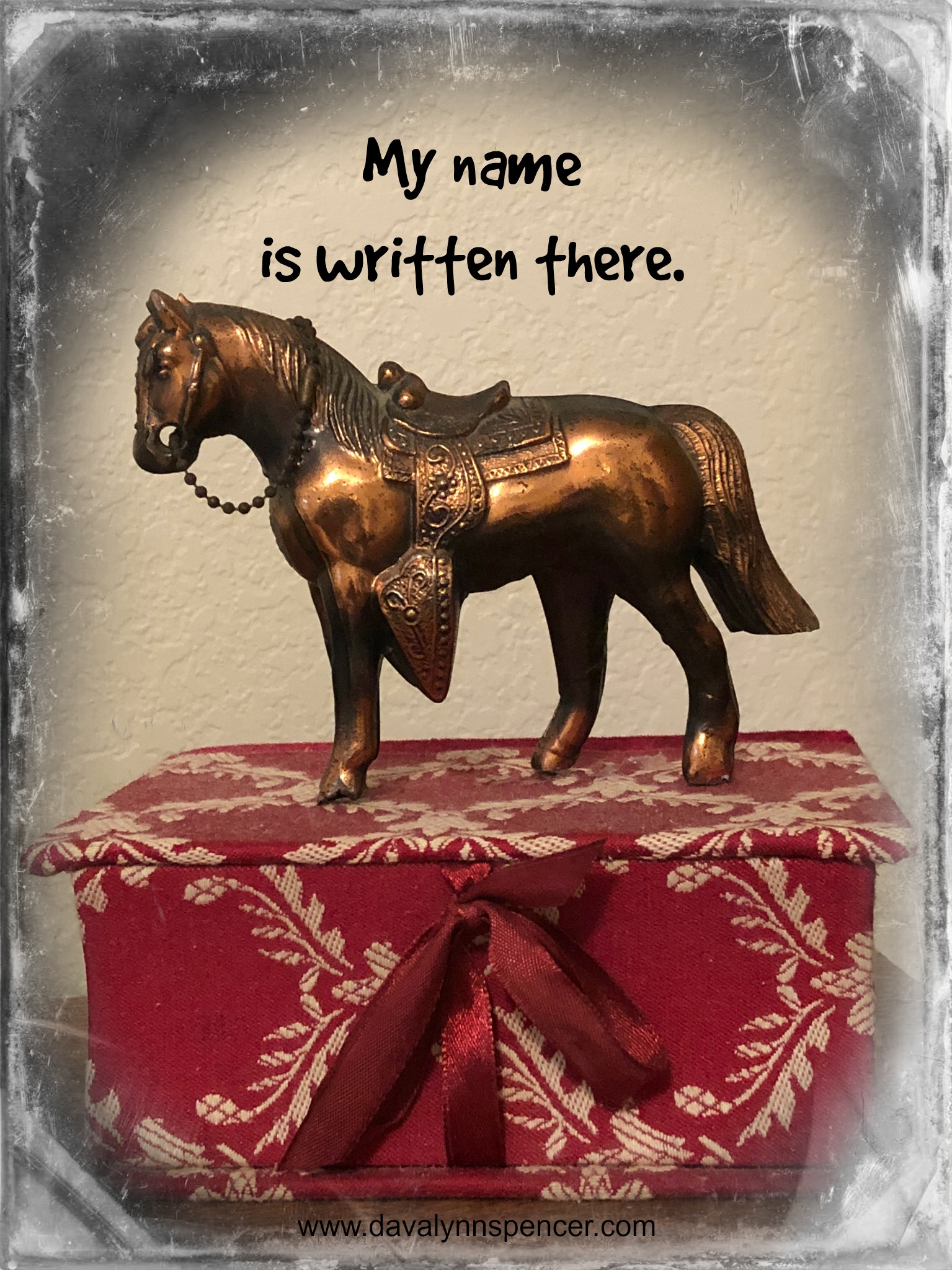 By Davalynn Spencer @davalynnspencer
A child's perspective can open our eyes to things we've long forgotten about as adults.
Like the vintage carnival-prize horse that belonged to my husband's mother. Her great-granddaughter discovered that prize several months ago and let me know that she placed high value upon it. She picked it up and turned it over and around and even hugged it to her little chest in adoration.
One day when she was visiting, she went predictably to the statue and picked it up, surprised by the piece of paper taped to its copper belly.
"That's your name on there," I said when she looked to me for explanation. "Someday, that horse will be yours."
Again, she hugged it endearingly.
Each visit since, she checks to see if the tape is still there. "My name is on it," she says. "And tape."
She's reminding me of her future ownership as well as reassuring herself that I won't forget.
Though she doesn't know it, this six-year-old is also reminding me of God's unfailing love for us as His children.
The Old Testament prophet, Isaiah, encouraged the people by saying, "Can a mother forget the baby at her breast and have no compassion on the child she has borne? Though she may forget, I [God] will not forget you! See, I have engraved you on the palms of my hands" (Isaiah 49:15,16). 
In the New Testament, Jesus told his disciples upon their return from seeing evil succumb to God's power, don't rejoice that the spirits submit to you, rejoice that your names are written in heaven (Luke 10:20). 
Written in heaven. I like the sound of that. There is great comfort in knowing that my name is written there.
~
My name is written there
Click To Tweet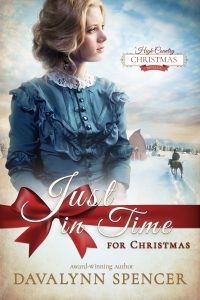 Abigale picked up the cross-stitched pillow, heavy with memories. A small brown stain marred one corner, no doubt blood from where she'd hit her head. Tears stung the backs of her eyes, making it hard to read the words. She knew them by heart, but reading them and fingering the tiny stitches reminded her that Mams's faith had grown over time, just like the painstaking handiwork.  ~Just in Time for Christmas  (Available now for pre-order!)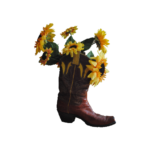 Get a free book when you sign up for my Newsletter.
#lovingthecowboy
(c) 2019 Davalynn Spencer, all rights reserved.
#WesternRomance #ChristianFiction #FreeBook