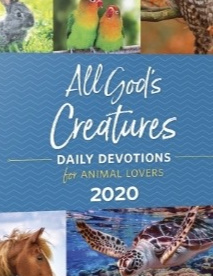 It's not uncommon for people to find spiritual insight through the behavior of their pets or other animals. I've experienced plenty of times when my eyes were opened by my old dog, Blue, or one of our other critters, including my husband's clown mule, Ike. I've even written about some of those occasions in this blog.
So when I was invited to write devotionals for Guideposts' 2020 yearly devotional book for animal lovers, All God's Creatures, I jumped at the opportunity. Friend and fellow author, Amelia Rhodes, also has contributions in this collection. Check out her other books here. 
Has there been a time in your life when you sensed a message from God through a pet or other animal? Tell us about it by commenting below.
Then think Christmas, my friends. What a perfect gift for the animal lovers in your life. Get your copy from Guideposts by going directly to the site here.
~
You care for people and animals alike, O Lord.
How precious is your unfailing love, O God!
Psalm 36:6,7
~
Give to the animal lovers in your life.
Click To Tweet
Congratulations, Barbara Franks. You are the randomly chosen giveaway winner from last week's guest post by Janet Chester Bly.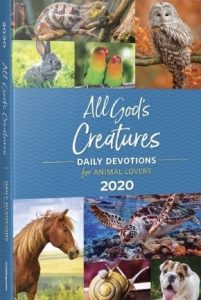 Animals are one of God's gifts to humans. They bless us with comfort when we are down, fill us with joy at just the right moment, and encourage us on our daily walk.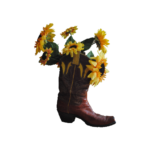 Sign up for my Newsletter and get a free book.
#lovingthecowboy
(c) 2019 Davalynn Spencer, all rights reserved.
#WesternRomance #ChristianFiction #FreeBook