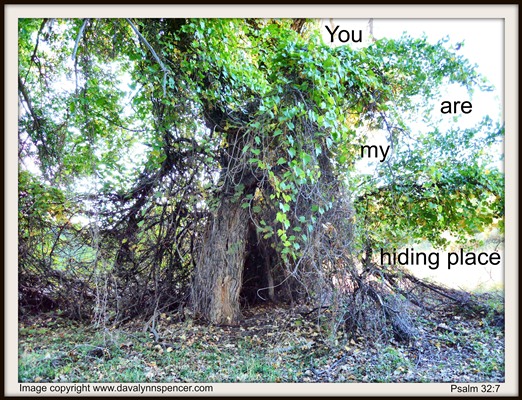 By Davalynn Spencer @davalynnspencer
Do you ever want to run away?
Today I did just that.
I ate breakfast and lunch at the dining table rather than at my desk.
(Strange, isn't it, what we run away from.)
I ate looking out the window into the back yard instead of at my computer screen.
My internal workings slowed. In a good way. A way that I needed, reminding me that I didn't have to work, work, work.
This image of a hollow tree calls me to crawl inside, lean my back against the smooth interior, and hide.
Hide from all the visual noise, the demands, the clatter and clutter. All the multi-tasking.
I'm good at multi-tasking – eating and writing and checking e-mail and updating Facebook and drinking coffee and making notes so I don't forget what I want to do next.
You are my hiding place …
The words come to me as a whispered invitation, reminding me that I can run away – into His waiting, peaceful presence.
I can crawl inside His arms, lean my back against His chest, and hide.
Someone once said, "Don't eat lunch at your desk if you can help it."
I add to that, "Find a window, sit where you can look outside, see things that aren't manmade."
My eyes have never ached from looking at God's creation. Grass, trees, quail scrabbling beneath the birdfeeder. The dog, cats. Cloud-filled sky.
They soothe.
That's why I have a small vase of flowers on my desk. It draws my eye to the God-made, the lovely, the amazing. That which I cannot replicate, though I try to with my words.
You are my hiding place;
you will protect me from trouble
and surround me with songs of deliverance.
Connect with me via: Newsletter | Facebook | Pinterest
COMING SOON … An Improper Proposal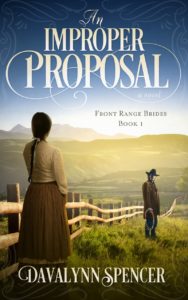 "You know nothing about me. I could be a hornswoggler, an outlaw. A gambler." —from An Improper Proposal
#lovingthecowboy
Save