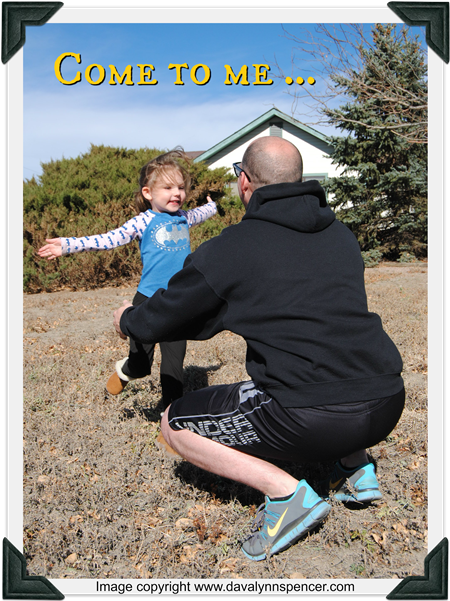 By Davalynn Spencer @davalynnspencer
"Where is my daddy?" asked my four-year-old granddaughter Sunday morning. "I want to run to him."
This little bundle of energy had bee-line vision for her father, but I gripped her hand tightly. We stood at the edge of the road, about to cross the street into a parking lot full of cars, cars, cars!
After we made it safely to the church, I let go and she dashed inside, straight into her father's arms.
Those words—"I want to run to him"—grabbed my heart and twisted. That little girl would never say such a thing unless she knew he would accept her, catch her up, and hold her close. She was confident that she'd be surrounded by his strength, safe from all the world, and she didn't care who was watching.
I've seen no better picture of what our heavenly Father wants from us—unrestrained trust and adoration.
Jesus said two things that link together like a parent's arms around their child:
"Come to Me" (Matthew 11:28). 

"Whoever comes to me I will never drive away" (John 6:37). 
How blessed we are to know that we can run to our Father and His everlasting arms with hold us. (Deut. 33:27)
~~~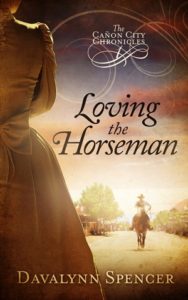 Caleb trimmed the lamp on the crate until the wick smoked out, then rolled to his side. His eyes closed and soon he drifted across a ripening wheat field with golden heads bent beneath a scuttling breeze. He saw himself running through the field—running toward an aging man who stood open-armed, tears streaming down his face and into his beard.
Caleb fell at the man's feet but was lifted upright and embraced. Enfolded, Caleb let go of his remorse and resentment. Exchanged them for peace. And found the deep restful sleep of one who is forgiven.                                ~Loving the Horseman
Connect with me via Newsletter | Facebook | Pinterest
#lovingthecowboy
(c) 2017 Davalynn Spencer, all rights reserved.