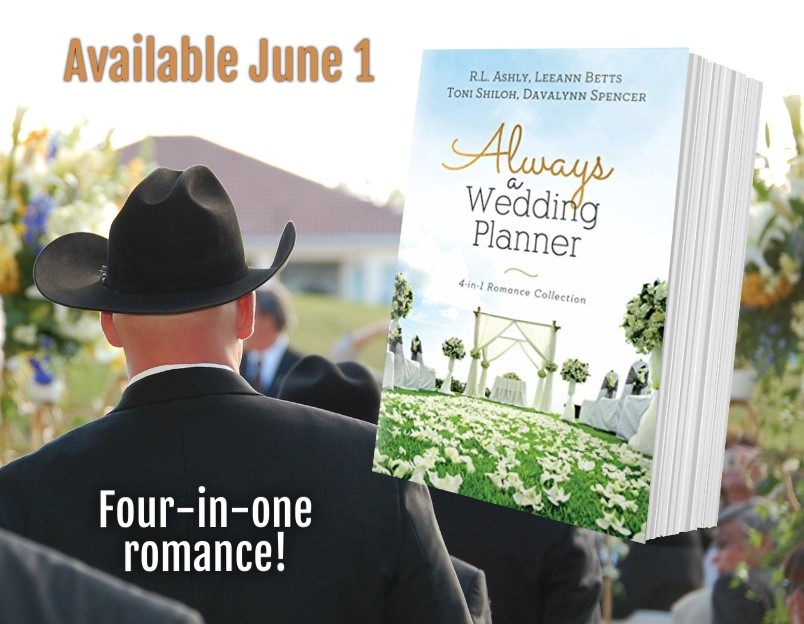 By Davalynn Spencer @davalynnspencer 
Thank you for joining me for this "Takeaway" series with input from all four authors in the upcoming contemporary romance collection from Barbour Publishing, Always a Wedding Planner. We have heard from Toni Shiloh, RL Ashly, and Leeann Betts. Today I share what I hope readers take away from my story, "Taste and See."
As I mentioned three weeks ago, takeaway is what stays with a reader long after the story is over. And if it's a solid takeaway, the story never really ends. That's what I like to write—stories that stay.
Simply Trust
In this collection told from the perspectives of four business partners, each with something to hide, I was quick to decide upon my story's scriptural connection. Writing from the chef's point of view, and with "insider's" knowledge about the big secret she was hiding, I went to one of my favorite Psalms.
Oh, taste and see that the Lord is good:
Blessed is the man who trusts in Him!
Psalm 34:8
Taste and smell are the two physical senses so closely connected, not taste and see. Why are these two paired in this passage? Perhaps the verse could be interpreted as meaning "try God out and discover how good He is." But I'll leave translations up to the scholars and focus on what the scripture actually says.
My cooking character, Saffron (Ronnie) Fare has a barnboard plaque hanging above the counter in her commercial kitchen with this verse inscribed on it. The plaque was a gift from her mother. An encouragement for her career as a chef and a reminder that those who trust the Lord are blessed – whether they are man or woman.
However, when Ronnie came down with an infection that rendered her senses of taste and smell useless, she was devastated. Fear threatened to undermine her confidence as a chef. Of all the senses she needed the most in order to do her job, taste and smell were critical. Without them, she was forced to depend on the senses of others and their reactions to determine if she had succeeded with a new recipe or an adjustment to an old one.
Ultimately, she realized that she had to apply the second half of the verse and trust God. She chose to use the unexpected provisions God had supplied rather than let fear take over.
When our back is up against the wall and we're pushed into a corner, God is there. When we're faced with losing our livelihood and all we hold dear, God is there. And when fear threatens to strangle our confident praise into squirming panic, God is there. It's the letting go and trusting that is so hard because trust comes at the great, bloody expense of self-will.
My prayer that accompanies this light-hearted tale is that readers see their real-life challenges met with hope that the real-life promises of God are true and worthy of our trust. I pray they will take God at His word, then taste and see how good He truly is.
~
At the great, bloody expense of self-will.
Click To Tweet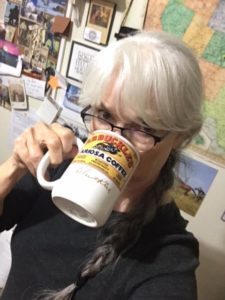 Ronnie peered through teary eyes at the barnboard sign her mother had given her when she graduated from her culinary training. The black script letters were only half of the verse in Psalm 34—the challenge part.
The encouragement part wasn't there, but it had been tattooed on her heart by two loving women over the years, and even now ran through her mind in her Gramma 'Cine's voice: "Blessed is the wo-man who trusts in Him."
For as long as Ronnie could remember, Gramma had added wo- to the verse, insisting that it didn't alter the promise, but directed it to a more specific audience.
Years of hearing that affirmation had laid a foundation of trust.
Trust sounded a whole lot like taste. And right now it was just about the only thing she could do in the face of this potentially life-altering challenge. ~"Taste and See" from Always a Wedding Planner
Pre-order your copy today!
~
Bestselling author and Will Rogers Gold Medallion winner for Inspirational Western Fiction, Davalynn Spencer is the wife and mother of professional rodeo bullfighters and can't stop #lovingthecowboy. When she's not writing Western romance, she teaches writing workshops and wrangles Blue the Cowdog and feline mouse detectors Annie and Oakley. Join her newsletter readers and receive a free historical novella!
Inspirational Western Romance – where the hero is heroic.
FREE book and Newsletter!
#lovingthecowboy
(c) 2021 Davalynn Spencer, all rights reserved.
#AlwaysAWeddingPlanner #WesternRomance #ChristianFiction #FreeBook #HistoricalRomance