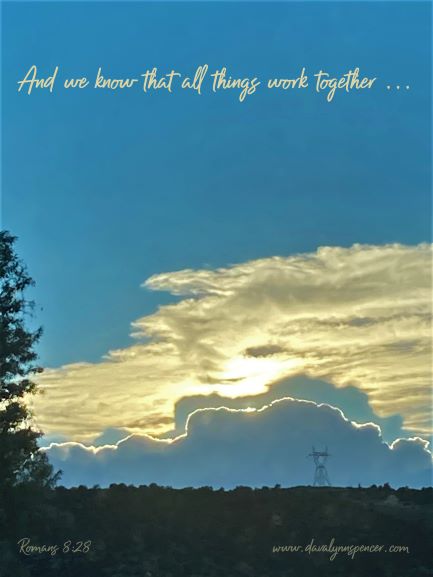 By Davalynn Spencer @davalynnspencer
Rarely have I seen a true silver lining on a cloud, but often I have heard that every cloud has one.
John Milton is said to have coined the phrase in 1634. It has become a cliché encouragement to those in trying situations that something positive can result from something negative.
The idea supporting the silver-lining theory is the fact that the sun is behind the cloud. Even though we can't see it, we see evidence of the sun's presence.
God's word says something similar but with deeper significance:
And we know that all things work together for good
to those who love God,
to those who are the called according to His purpose.
Romans 8:28 (NKJV)
Nothing surprises God, and He works every situation into something good – here's the catch – for those who love Him.
Do we love Him enough to set our own purposes aside to follow His? Do we take the time to even find out what those purposes might be? Do we stick with Him long enough to see what He will do in the situation?
The sweet peace of God's presence is an enduring comfort. And knowing that He is working even bad things out for our good encourages me to press on.
~
I have heard that every cloud has one.
Click To Tweet
Last week's winner of the author-signed copy of Always a Wedding Planner is Alicia Haney. Congratulations!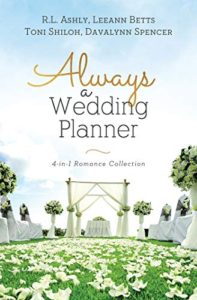 "I can't taste or smell anything because of an infection I got on the ship," Ronnie said.
All three of her business partners glanced at each other and then back at her.
"Why didn't you tell us?" the baker asked.
Ronnie took a shaky breath. "Because who wants a chef who can't smell or taste?"
"From what I heard tonight," Cassie said, "it didn't make a bit of difference."
"And it doesn't make any difference to us," the baker added. "You know what you're doing, and you do it well. I certainly hope you're not thinking of quitting."
"But I may never get my taste and smell back. There are no guarantees." ~ Taste and See from Always a Wedding Planner
Inspirational Western Romance – where the hero is heroic.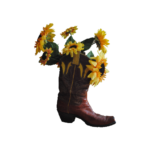 FREE book and Newsletter!
#lovingthecowboy
(c) 2021 Davalynn Spencer, all rights reserved.
#AlwaysAWeddingPlanner #WesternRomance #ChristianFiction #FreeBook #ContemporaryRomance