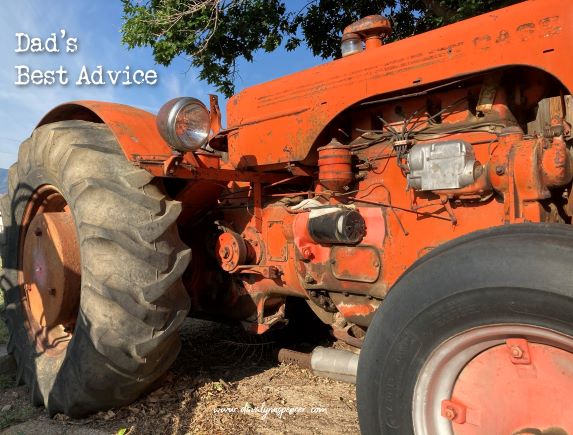 By Davalynn Spencer @davalynnspencer
My farmer father taught me how to drive by starting me out on a tractor when I was about 10. His instructions included the following:
Stand up on the brake if you can't push it down.
Stop at intersections even if no cars are coming. 
Signal before turning at that intersection. (I'm convinced people don't know how to do that today.)
Watch the edge of the pavement, not the center line, so you stay in the right-hand lane.
In the field, plow a straight line by fixing your eyes on a distant point ahead. Don't look back over your shoulder.
One summer afternoon at our house in town Dad said, "Take the pickup out to the ranch for me."
I guess he figured it wasn't that much of a jump from the tractor to the truck, and he didn't say a word while I ground through the gears of the old Chevy with "three on the tree." But I made the nine-mile trip without getting a ticket or running over anyone's dog or cow.
Today, in heavy fog or a snow storm, I hear Dad telling me to watch the edge of the road rather than the center line. Signaling and observing stop signs also serve me well, but I don't stand on the brake any more.
However, Dad's best advice was number five – literally and figuratively: Watching where you're going is the best way to get there.
We all learn from our dads, whether it's what we want to do with our life, how to do it, or how not to do it. Sometimes those dads weren't our fathers, but they filled in the gaps and shored us up.
Others had dads who were abusive or mean. That kind of childhood skews our image of a loving heavenly Father who is there waiting for us to come to Him so He can heal our heart-wounds. 
Whatever your situation may be, this Father's Day, find someone to honor with a thank you for their support. And give God a chance. You may not know Him yet, but He loves you more than you can imagine.
Can a woman forget her nursing child,
and not have compassion on the son of her womb?
Surely they may forget,
Yet I will not forget you.
See, I have inscribed you on the palms of My hands;
Isaiah 49:15-16 (NKJV)
~
How about you? What's the best advice you received from your dad or father-figure?
Dad's best advice was ...
Click To Tweet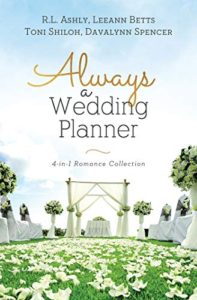 Ty set the tray on the family picnic table beneath the sprawling overhang and sat on the side facing the cut grass that sloped down toward the arena. Crickets took up a chorus from the pond south of the barn while the sun slid toward the mountains. He unscrewed the lid from the salsa jar and dumped a pile of it on one end of his burrito.
"Thanks, Lord."
Lifelong habit forced a cursory nod to God, but the full-mouth prayer wasn't the kind of blessing he'd grown up with. Prayers like his father prayed had faded after the three-in-one funeral. It'd been hard to thank God for anything when Ty felt like everything had been ripped from him.
He took another bite of burrito and chased it with cold cola. Not exactly Ronnie Fare's sweet lemonade and fried cheese.
The memory of her golden hair and tanned legs swamped his good sense as an arrow of Canada geese sailed past on their way to the pond. He wondered what she was making for dinner.
And he wondered what his mom would think of a girl with a boy's name and a smile that made him want to be a better man. ~"Taste and See" from Always a Wedding Planner
Inspirational Western Romance – where the hero is heroic.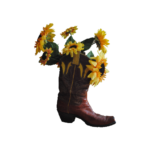 FREE book and Newsletter!
#lovingthecowboy
(c) 2021 Davalynn Spencer, all rights reserved.
#AlwaysAWeddingPlanner #WesternRomance #ChristianFiction #FreeBook #ContemporaryRomance
Revised from an earlier post in June 2015.