One of my favorite movies is Michael Mann's The Last of the Mohicans from 1992, based on the 1826 novel by James Fenimore Cooper. The story captivates me with its internal and external conflict, historical setting, and romance of course. But quintessential antagonist, Magua (played by Native American actor Wes Studi), threads deceit and vengeance throughout the tale with such cunning, that I came close to hating the man.
"Love your enemies," right? It was a tough call. For me, Magua was the perfect bad guy.
Studi's acting career encompasses many more roles than Magua, but I was not that familiar with them. So when our August/September edition of Cowboys & Indians magazine arrived last week, I didn't make the connection at first.
The pleasant-looking rancher wearing a burnt-orange western shirt on the cover did not equate with the throat-slitting traitor portrayed in The Last of the Mohicans. No topknot haircut. No hate-filled eyes. No acting.
As a romance author, I don't write such blood-letting scenes as found in a movie like The Last of the Mohicans, and viewers beware if you rent it—there are scenes that will ruin your dinner. But the believability of the characters, even the bad guy, is something I want to achieve in my stories.
Nearly every novel has an antagonist, even if it's merely the setting and circumstances. Making that role believable is every actor's and author's quest.
Remember Cruella De Vil from 101 Dalmations? Bad. Very bad.
Do you have a favorite bad guy? If so, is he (or she) from a novel or a movie? I'd love to hear who you pick.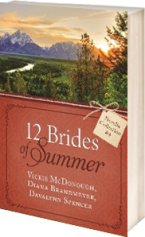 Who's the antagonist in The Columbine Bride?
Fear? Circumstances? Another woman or outlaw?
Find out September 1 when Book 4 of The 12 Brides of Summer goes on sale. Pre-order here today!
#lovingthecowboy