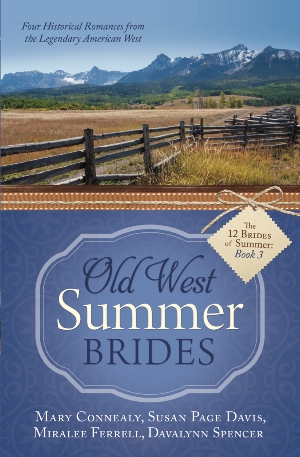 Lucy Powell is a young widow with a hard summer ahead of her in my soon-to-release novella, The Columbine Bride.
How soon, you might ask?
Tomorrow!
That's right. July 14, 2015, Old West Summer Brides, book 3 in Barbour's limited print collection of The 12 Brides of Summer comes to select Walmart stores across the country.
In The Columbine Bride, Lucy's main project for the summer is getting her ranch up and running – a nearly impossible task. But she is reluctant to accept neighboring rancher Buck Reiter's help. Can the old cowboy convince her his interest is more than charity?
My personal goals for this summer include completing a novel about a young woman who saves the day in a 1910 one-reel "flicker" while falling for a local rancher near Cañon City, Colorado – the Western silent movie hub of the era. Here's a short article about Fremont County, Colorado, that mentions those early silent pictures.
What projects do you have lined up for this summer? Are they more than you feel you can handle, or is there someone who's willing to give you a hand?
Commit to the LORD whatever you do, and he will establish your plans. (Proverbs 16:3 NIV)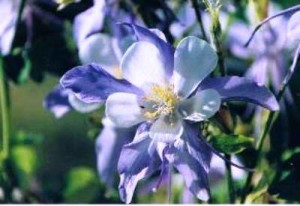 #lovingthecowboy
If you'd like in peek inside my imagination while I was writing The Columbine Bride, check out my Pinterest board.
Lucy's story appears with three other novellas by fellow historical romance authors Mary Connealy, Susan Page Davis, and Miralee Ferrell. Read a little about each one.
A Bride Rides Herd by Mary Connealy
Matt Reeves arrives at his brother's ranch to find Betsy Harden alone with the little girls during a cattle drive. Will the ladies be too much to handle when Matt steps in for the missing ranch hand?
The Blue Moon Bride by Susan Page Davis
Ava Neal hopes moving west will be a new start, and then she meets handsome Joe Logan who helps her hide her valuables when the train is robbed. Might their paths cross again?
The Dogwood Blossom Bride by Miralee Ferrell
Gracie Addison is a tree-climbing tomboy, and practical Will Montgomery objects to her unladylike influence on his niece. Will his judgmental attitude come back to bite him?