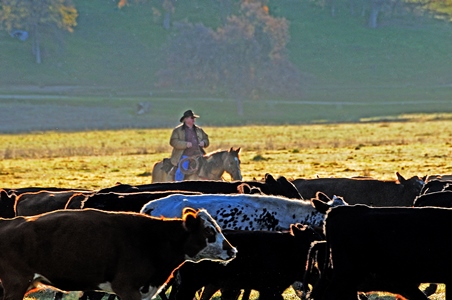 Doubt crawls up my shoulder and whispers: "Writing make-believe stories is a worthless occupation. What good can fiction possibly do? And romantic fiction? Ha! What a joke."
And then I walk down the hospital hallway to the coffee room, past artwork and photographs of my genre – the West.
Cowboys saddling horses. Log cabins. Barns, corrals, extravagant sunsets.
I want to climb into those pictures. Escape for a while. Smell the dawn sifting through a forest, hear the nicker of a horse at feeding time. Run my fingers through the rough hair of a good cow dog.
Someone took those photographs and painted those pictures, someone with a creative gift that touches my heart and offers me respite.
And I finally see why readers write to me and say they "escaped" into my stories.
I get it. I see the restorative value in the gift of story—whether told in words or pictures.
Thank God He poured creativity into His children. Thank God He lets us walk in His image and share in His touch.
How gracious He is.
"Let us make man in our image."
Gen. 1:26
Photo by AJ Spencer