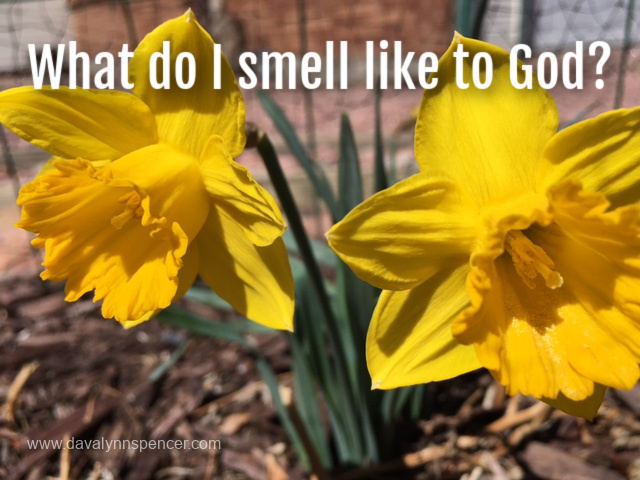 By Davalynn Spencer @davalynnspencer
If someone came up to me and said I smelled, my reaction would depend upon what they said I smelled like. Cinnamon rolls? Fresh flowers? Bacon grease, dirty socks?
People care about how they smell, and because of that, smell is big business. Air fresheners, scented candles, perfumes, and even aroma therapy are proof.
As an author, I want to fill my stories with sensory detail, particularly smell, since it is the most connective of the senses. What memories surface when you read the following words?
Hospitals.

Bakery.

Tire shop.

School cafeteria.
The smell of diesel takes me back to our cross-country travels when we rodeoed all summer. And at the pungent scent of wet leaves, I'm a child again in my father's California walnut orchard.
Considering the variety of smells in creation, God must appreciate the power of scent. Our olfactory nerves trigger memory quicker than visual reminders, so it is no wonder He gave specific instructions in the Old Testament for the mixing and burning of incense. Even today, frankincense and spices are used in some church services as a form of worship.
The psalmist David wrote: Let my prayer be set before You as incense, the lifting up of my hands as the evening sacrifice (Psalm 141:2).
In Revelation 8:1-3 we read: "Then another angel, having a golden censer, came and stood at the altar. And he was given much incense, that he should offer it with the prayers of all the saints upon the golden altar which was before the throne. And the smoke of the incense, with the prayers of the saints, ascended before God from the angel's hand."
In the same way we take on the smell of smoke from a campfire or a hint of fragrance from a heavy-handed perfume wearer, I wonder if we take on the scent of worship when we offer praise to God.
Do I ever smell like worship? Or do I give off a distasteful odor of complaint? I wonder – what do I smell like to God?
~
What do I smell like to God?
Click To Tweet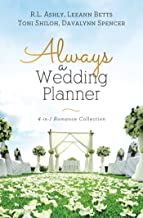 The cheese wedges hadn't looked bad, they just smelled like the inside of Ty's boots after a long day gathering cattle.
     And by the look on Ronnie Fare's pretty face, that's what she thought of his answer to her question about what to call them.
     How was he supposed to know? He tried out another idea. "Fried-cheese chip?"
     She rolled her eyes.
     Guess not.
     But he did know she hoped he'd like it. Her anticipation was a dead giveaway, and for a split second, he weighed the cost of a bald-faced lie to keep from hurting her feelings. A scary proposition no matter how he viewed it, and a whole lot like his aunt Gert's friend insisting he try gefilte fish when he was ten years old. But this time the taste overrode the smell. No lie necessary.
     The fancy cheese was good enough that he had three more and chased them with the pink juice. "Not what I was expecting, I admit, but it's good." ~"Taste and See" from the Barbour collection, Always a Wedding Planner.
Inspirational Western Romance – where the hero is heroic.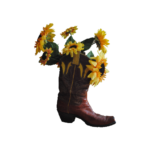 FREE book and Newsletter!
#lovingthecowboy
(c) 2022 Davalynn Spencer, all rights reserved.
#WesternRomance #ChristianFiction #FreeBook #HistoricalRomance #CowboyRomance