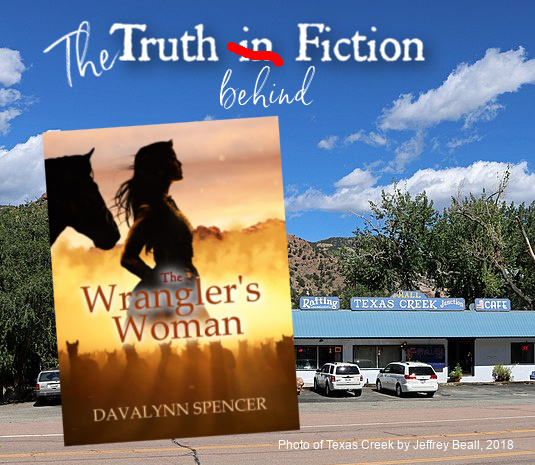 By Davalynn Spencer @davalynnspencer
Several years ago in one of my digs through the past, courtesy of the Royal Gorge Regional Museum & History Center,   I found an article about Texas Creek, Colorado. It wasn't called Texas Creek in 1881, but rather, Ford Junction, a stage stop, where the road (and later a railroad branch) to Westcliffe intersected with the Arkansas River and the Denver & Rio Grande Western. I also read a little about the history of the creek that was named by a couple of cattlemen driving a herd of Texas longhorns up to the mining camps.  
That was all I needed.
Ford Junction became the setting for the novella, "The Wrangler's Woman," which first appeared in Barbour's 2016 bestselling collection, The Cowboy's Bride. My novella re-releases October 7 as a standalone e-book.
Of course I'm not going to tell you what happens in the story, but you might find yourself witness to a small herd of longhorns clacking their dusty way down the main street of Ford Junction, headed to an area ranch. All fiction, of course. But there's a lot of truth behind fiction. Especially historical fiction.
~
The truth behind fiction.
Click To Tweet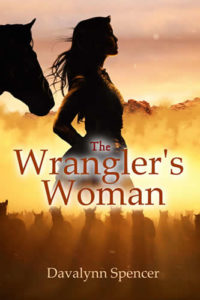 "That was Josiah Hanacker and his two children," Letty said of the three riders trailing the herd through town. "A rancher up Texas Creek. The canyon cuts south to the Wet Mountain Valley, and the stage road runs right through his property. He was real regular in church, even living so far out, before his wife passed two years ago, poor man."
Letty rolled her lips and wagged her head again, a sure sign of sympathy. "He's raising those children alone, with his crippled father's help." She caught Corra's eye. "If you can call that help."
Corra spent the remainder of the morning contriving details around Letty's explanation. A keen-eyed widower raising two boys alone on a ranch in the mountains sounded like the perfect scenario for a hero in the novels tucked securely beneath her unmentionables. Her paper beaus, Letty called them.
Though Corra knew her sister meant no ill in the teasing, it stung. Corra's suitors had always come under cover of book bindings and daydreams. They still did. ~The Wrangler's Woman
Congratulations, Peggy Clayton, you won a signed copy of An Impossible Price from last week's drawing.
Original image of Texas Creek by Jeffrey Beall, 2018, Wikimedia Commons. 
Inspirational Western Romance – where the hero is heroic.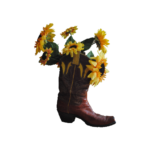 FREE book and Newsletter!
#lovingthecowboy
(c) 2021 Davalynn Spencer, all rights reserved.
#WesternRomance #ChristianFiction #FreeBook #HistoricalRomance