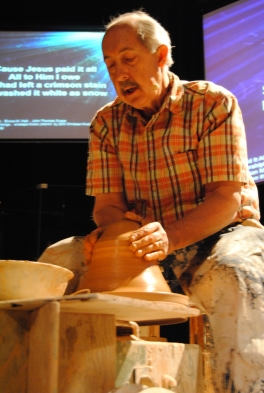 #thepotter
The potter returned to our church last Sunday and demonstrated how God raises us up. There is more to resurrection, he said, than rising from physical death. Of course we hope that is true.
Most of us long to rise from the grave of failed relationships, lost jobs, and poor choices. The potter says we can when we know the power of Christ's resurrection.
By no miracle other than the pressure of his hands, the potter caused the clay to rise from an ugly lump to a tall, stately vase.
(Did you catch the cause?)
The pressure of his hands.
As he worked, the potter discussed Phil. 3:10, "that I may know him, and the power of his resurrection, and the fellowship of his sufferings, becoming conformed unto his death;"
I would rather rise up "on wings as eagles" by waiting on the Lord. It sounds safer, don't you think? However, even waiting can involve suffering when one's fate appears to be at the mercy of another human—when word has not come from a child deployed overseas. Or the doctor has not yet called with his findings.
See how close the potter sits to his project, how focused his attention, how protective his posture?
In my eyes, the potter is a picture of the loving Savior who transforms us—He who sees not what is (scars, wounds, gouges, holes) but what is possible at the touch of His fingers.
The Potter: Dave Blakeslee