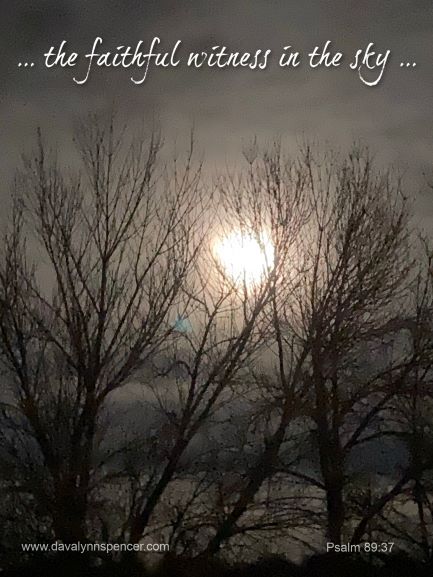 By Davalynn Spencer @davalynnspencer
It's amazing what one may chance to see
when taking a puppy out to pee.
Now you know why I'm not a poet.
Poetry aside, life rhythms have changed for me over the last few wintry weeks.
One late night as I stood bundled up and shivering in the backyard, I watched my new canine companion with an impatient eye, willing him to take care of business so we could go back inside to the warm woodstove.
Intent on an objective I dearly hoped was also his, I focused on the snowy ground where we stood.
And then I looked up.
Moonrise took my breath in a gasp.
I almost missed it. In my urgency and impatience I almost missed the quiet splendor of the moon rising beyond the trees, a silent observer of our night-time trek.
Psalm 89:37 calls the moon God's faithful witness. The psalmist speaks of the unending lineage of King David when he says, "Like the moon it shall be established forever, a faithful witness in the skies."
I see a double-edged meaning in the phrase. Is it a faithful witness who testifies truthfully or one who observes an event? I believe either interpretation is fitting.
I wish I were more observant. When I'm focused on something, I often miss the beauty around me, not only physically, but spiritually as well.
If I'm focused on bad news, I miss the promise of God's comfort. If I'm focused on what I want that hasn't happened yet, I miss the peace of His presence.
But if I can look up more often, rather than down, I may be surprised at how He lifts my heart with unexpected beauty.
Even when taking a pup out to pee.
~
I almost missed it.
Click To Tweet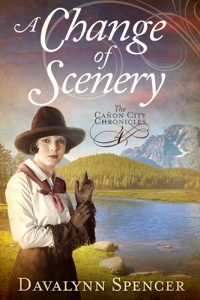 The moon lit the yard like near day, exposing Cale's hidden longings. Hard to admit he wanted his own close table-talks with a woman, one who'd spread a smile in his heart and a quilt on his bed. But a fella didn't always get what he wanted—or keep it—and he was old enough to know the truth in that. ~A Change of Scenery
The randomly selected winner of last week's giveaway is Phylis. Please contact me to receive your free signed copy of A Change of Scenery!
Inspirational Western Romance – where the hero is heroic.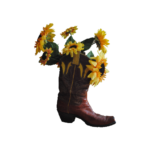 Want a free book? Sign up for my Newsletter!
#lovingthecowboy
(c) 2021 Davalynn Spencer, all rights reserved.
#AChangeOfScenery #WesternRomance #ChristianFiction #FreeBook #HistoricalRomance