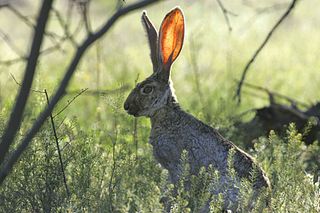 From the tracks in the snow this winter, I figured we had a good-sized jackrabbit. Either that or a kangaroo. But it wasn't until the last 8-inch "dusting" we received that I actually saw the critter.
Looking out the kitchen window, I spotted a new stump in the back half of our Colorado acre. I looked closer. The stump had two very long ears that would fit fine on a mule deer. And then I realized what I was looking at hunkered down in our snowy back yard.
By the time I grabbed my camera and got back to the window, he was loping into the bushes, quickly out of sight.
I told our neighbor across the street about my sighting, and she said, "Oh, that's Jack. He has a trail that runs through here." She should know since she sets cracked corn out for the deer, and I'll just bet Jack noses around in it, too.
We also have a family of cottontails that live under our spreading juniper trees. Sparrows and doves and quail make themselves at home in the same trees, but I'm partial to the bunnies. They remind me of the teapot my husband's Aunt Ida gave me one year for my birthday.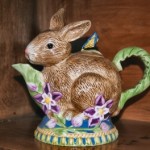 Colorado columbines circle the base, and every spring in California, I'd display the bunny teapot and think about Springtime in the Rockies. It's nice to set that little pot out on the table now with those Rocky Mountains towering over the ridge behind our house.
If you've heard the phrase, Springtime in the Rockies, and wonder about its origin, click on one of the following links to hear the old-time love song
Gene Autry        Sons of the Pioneers
If you're wondering what the real springtime in the Rockies is like, my husband's favorite poem pretty much says it all:
Spring is sprung the grass is riz.
I wonder where the flowers is.
And if you want to read more about columbines, be sure to check out my next book set to release in May, Branding the Wrangler's Heart.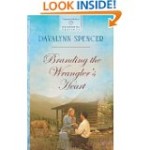 .