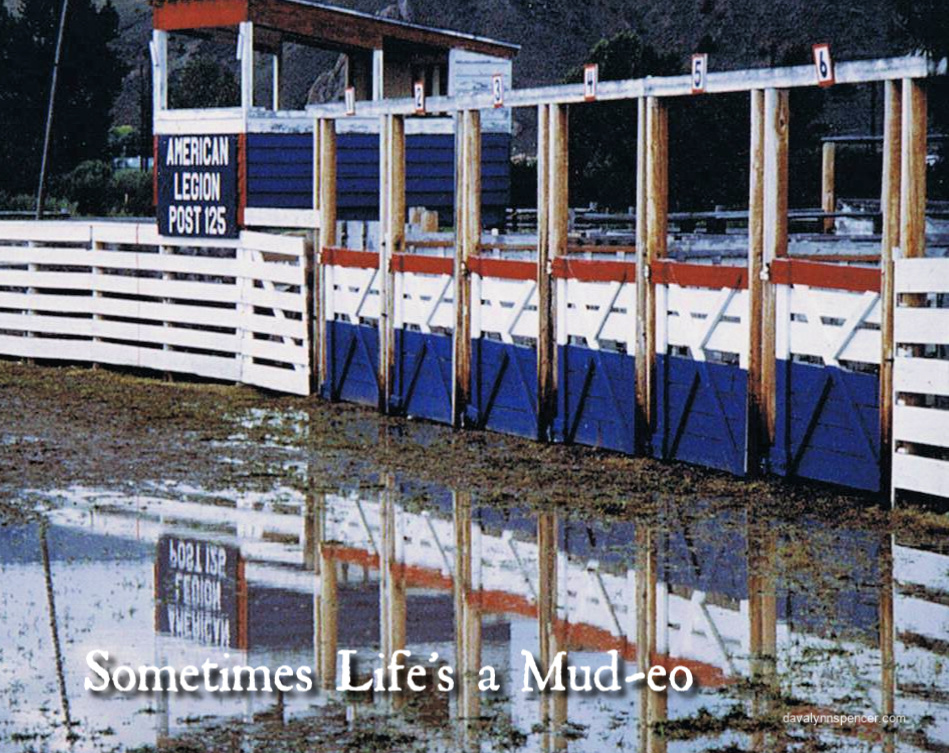 By Davalynn Spencer @davalynnspencer
In the sport of rodeo, the game is never called on account of rain. Well, almost never. The only place I saw a performance canceled due to weather was Drummond, Montana, where standing water mirrored the bucking chutes (above).
But there was no cancellation in Cottage Grove, Oregon, the July day one of the judges walked across the arena and ankle-deep mud sucked his boot off his foot. I knew we were in for a wild one.
The stock didn't like it any more than the contestants, and by the time the bull riding came around, the arena was a mucky mess.
My bullfighter-husband, Mike, was in position when the chute gate cracked open and a yellow bull hopped out and slow-jumped in a tight circle. It didn't want to slog through the mire any more than anyone else.
From the announcer's booth, a whistle blew signaling the end of the required eight seconds, but the young bull rider wouldn't jump off. Fear clamped his fingers tightly around the rope that held him to the animal's back—and then the bull stopped.
Not a good thing.
There's no getting off a standing bull. It can zero in on the rider and do its worst.
Mike ran in close and slapped the bull's broad head to draw it after him and get it spinning.
Eventually, the bull whipped around close to the bucking chutes, and Mike—mud-heavy cleats weighing him down more and more—yelled, "Let go!"
The cowboy opened his hand and fell free just before the bull's horn caught Mike under the brow bone.
As the cowboy crawled away through the muck, the bull lifted Mike off the ground and slammed him into the chute gate.
Watching through the arena slats and squeezing our two-year-old son's hand, I prayed an impossible prayer: "Thank you, Jesus, that your angel stands between Mike and that bull."
Somehow, I knew that a panicky oh-God-no! prayer would only swing my heart's gate open to fear. I'd read countless times that God gave his angels charge over us. What better time to believe it than while watching an 1,800-pound bovine crush my husband into the chute gate?
And since when did faith have anything to do with my vision?
A couple of hours and several ice packs later, Mike sported a black-and-blue boxer's eye and a neat line of stitches just below his left eyebrow, courtesy of the good doctor on duty at the Cottage Grove Hospital ER.
There was no damage to his eye or his skull. No broken bones. Just a story-spawning shiner that stayed with him for weeks and the scar of his intervention that remains to this day. Such was the evidence that he'd been where he needed to be when he needed to be there.
The young cowboy walked away from his ride a lot dirtier, a bit wiser about when to get off a bull, and more prepared for the next ride. And the other bull riders knew they could trust their bullfighter to be there for them. They could trust him with their lives – even if it meant he endangered his own.
Jesus bears the scars of His intervention for our eternity. On our behalf, He offered Himself and took the hit of death. Because of His unwavering faithfulness, we can trust Him with our daily lives as well.
~
Greater love has no one than this, that he lay down his life for his friends. John 15:13
Since when did faith have anything to do with my vision?
Click To Tweet

If you enjoy Historical Christian Fiction, check out this great opportunity to get twelve books for FREE or 99-cents. Limited-time offer good through July 23!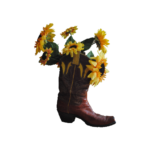 Sign up for my Newsletter and get a free book.
#lovingthecowboy
(c) 2019 Davalynn Spencer, all rights reserved.
#WesternRomance #ChristianFiction #FreeBook