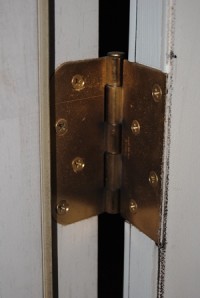 By Davalynn Spencer @davalynnspencer
My front door wasn't doing its job.
At first, I couldn't get it open without a crow bar (slight exaggeration). A few weeks later, it wouldn't lock. (No exaggeration.) I jammed a chair under the doorknob at night as an extra precaution.
One day my son said, "Let me take a look at it."
He looked, said it needed a shim, and asked if I had a piece of cardboard.
Um, sure. As a former elementary school teacher, I have a piece of everything tucked away somewhere.
He sized down the cardboard—way down—and slid it behind one of the door hinges, replaced the screws and closed the door. Perfectly. The dead bolt slid home with a clunk, and the latch worked.
Not at all the fix I was fearing.
I didn't know much about shims until I needed one. Originally I thought the problem called for a different solution—something major like a new door or a new lock. Something that was going to cost me a lot of money and time and frustration.
All I needed was a shim.
You see it coming, don't you?
Small fix, big difference. The successful fixes in our lives are often simple adjustments.
Forgiveness.
A smile.
Kind words.
As we walk through the door marked 2016, let's not overlook the small comment, gesture, or gift that could make all the difference in the world.
#lovingthecowboy
 Connect with me through:
Newsletter | Facebook | Pinterest