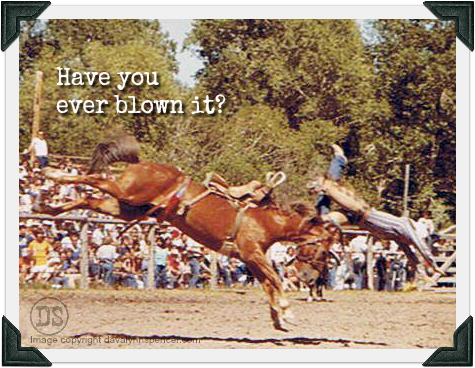 By Davalynn Spencer @davalynnspencer
Have you ever blown it? Not just miss a beat, but miss the whole boat? Think you're humming right along, focused in, on target, and then—wham?
This picture of Linger Rodeo Company's saddle bronc horse, Curly Wolf, circa 1980s, drives home my point. Curly had a way of tossing the boys "out the front door." Even if the rider thought he was tapped off and sittin' pretty, he could sail through the air in the next heartbeat.
What a life metaphor.
I missed a big one last week and rediscovered how easy it is to get down on myself. To browbeat myself, and say all kinds of discouraging things about myself … as if that would fix the problem or me.
Why do we do that?
The very next day I "happened" to read a familiar passage of scripture that was just what I needed. I didn't search it out; it was one of the day's collection in a little book called Daily Light for Your Daily Path. 
Funny how God does that. As if He knows.
[Jesus] understands our weaknesses…So let us come boldly to the throne of our gracious God. There we will receive His mercy, and we will find grace to help us when we need it most.     Hebrews 4:15-16
Grace says, "Stand up, dust off, and get back on. I'll help you."
Jesus is the face of grace.
~
Jesus is the face of grace.
Click To Tweet
Ever blow it?
Click To Tweet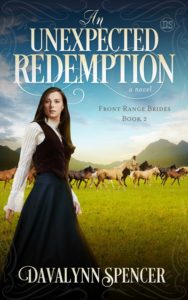 "I'm suggesting that you haven't forgiven yourself because you don't believe you deserve it." He let the words settle, then lowered his voice. "None of us deserve it, Betsy. It's a gift." ~An Unexpected Redemption
Connect with me via Newsletter | Facebook | Pinterest
#lovingthecowboy
(c) 2018 Davalynn Spencer, all rights reserved.