American Book Fest judges An Unexpected Redemption the 2019 American Fiction Awards Winner for Western Fiction.

"I am a great fan of the Western cowboy genre and An Unexpected Redemption did not disappoint for a single moment. Everything I could possibly expect — mystery, suspense, romance, faith in God, cowboys and so much more — fills each page." -T.L. Readers' Favorite
Read a review here.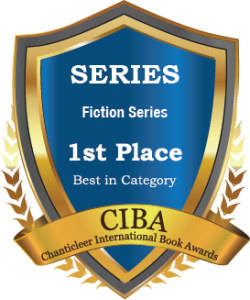 Winner of the 2022 Chanticleer International Book Award
Best Fiction Series ~ The Front Range Brides
Book 2 ~ An Unexpected Redemption
CHAPTER 1
Olin Springs, Colorado
Late August 1881
Elizabeth Beaumont had been thrown off green-broke horses and out of rooming houses, but never from a train.
That's what it felt like as brakes squealed, the car jerked against its couplings, and the conductor opened the door into darkness. He jumped to the platform, set down his step, and glanced at the depot. "Hope someone's meetin' you, miss."
He offered his hand. "Looks like there's trouble aplenty in town."
Thin light haloed the train station, wavering behind it like an uncertain sunrise. Like Elizabeth's confidence. "But my trunk and crate?"
"Yes, ma'am." He pointed back down the platform. "There. You hurry now."
She descended into moonless night, and he snatched up the step, pulled himself inside, and closed the door.
Not exactly thrown off, but close enough to it.
The passenger car eased ahead. Another slid by and the mail bag hit the platform with a thud. She assumed it was the mail bag and not a body.
Startled by the thought, she squinted at the shapeless lump until assured it was made up of letters and not limbs.
Touching the back of her hair, she adjusted her modestly plumed hat, then tugged at her gloves and reticule, both the same deep navy as her plaid traveling suit. It mattered little now since all was a colorless black and no one was meeting her. Still, little was more than not at all.
Some might consider arriving under cover of night weak-hearted, but why suffer scorn when it could be avoided? Six years ago, she had disappeared without warning. An impetuous seventeen-year-old. Now she returned in a similar manner, much preferred to stepping off a morning train to the judgmental whispers and shaking heads of local gossips.
Click-clacking out of town, the train chased its feeble lantern along the tracks, the whistle wailing around the bend for the mountains. In the quieting aftermath, more urgent sounds arose. Men shouted. Horses scrambled.
Coal smoke and steam gave way to the pungent scent of burning wood, nothing like a comforting hearth or campfire. The eerie flicker beyond the depot drew her with morbid interest.
Gathering her skirts, she hurried around the end of the depot and stopped at the next corner. Terror clutched her throat. Two blocks south, bright flames blazed from the second-floor windows of the Olin Springs Hotel.