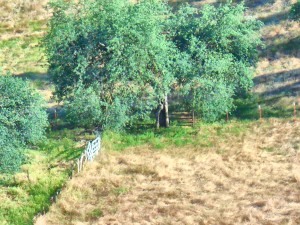 "I didn't see that one coming." "How could God let this happen?" "What now?"
Been there? I dare say, most have. We lose our job, our home, our love, our way. We struggle to get back up, dig out the gravel pitting our flesh, and continue on. But after that "one" we didn't see coming, we're never quite the same.
Scars remind us of painful experiences, even of lessons learned. But those scars are not who we are.
See the burned-out hollow in this tree? This oak is the inspiration for my recent novel. It lives in spite of its enormous wound.
"You're not defined by your injuries," says the heroine in The Rancher's Second Chance. She is appalled that her neighbor sees himself only through his life-changing wounds from a tour of duty in Afghanistan. "We're all crippled and short-sighted in some way," she insists.
Both the main characters in my story bear gaping wounds—one physical, the other emotional. And both must decide if they trust God enough to let Him reach into those wounds and "make all things new."
God is the great recycler of human wreckage, but we must allow His touch.
Christ gave us a second chance at Calvary but He didn't stop there. He renews us by His Spirit every single day. His word refreshes us and gives us courage to get back up and keep going in spite of our handicaps.
It's hard. We may look different. But battle scars and wounds are simply that—scars and wounds. Beautiful treasures beneath the scarred hand of our resurrected healer.
This post first appeared on the More to Life Magazine blog post on August 9, 2013.