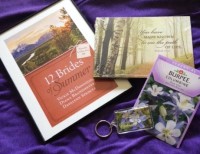 A week from tomorrow is release day for the last book in The 12 Brides of Summer collection – and my novella "The Columbine Bride" is in it!
Today I'm sharing my inspiration for Buck and Lucy's story. The tale includes many things I enjoy about Colorado: columbines, summer storms, rich high parks with good feed, and rugged Rocky Mountains. It also deals with the generous spirit of Colorado pioneers who drew the best from the land and gave back to it in their sweat and toil and love.
My inspiration spot for the story is a ranch in the hills above Cañon City. It's not hard to mentally wander back 130 years to what it might have been like with the old hand pump, fenced-off garden, and wood pile. Add my hero and heroine and a couple of kids, and the story takes on a life of its own.
Sometimes I believe that heaven hangs just over the hills up there, where if I look close enough and listen with my heart, I'll see and hear the same things that drew cowboys of old to this country.
If only the meadows and the streams could talk …
… I might hear them say Lucy Powell isn't afraid of much other than summer lightning storms—and with good reason. The storm pictured here was ten minutes away when I took this photo. Sudden, swift-moving, and serious. There's rain in them thar hills!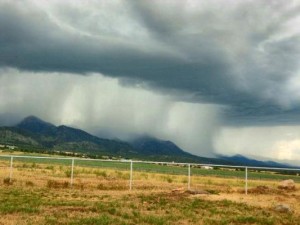 Buck Reiter sees a clump of columbines on his way to Lucy's ranch and stops to dig them up for her. People can't do that today—the blue columbine is the Colorado state flower. But if you keep reading, I'll tell you how you can get a clump of your own.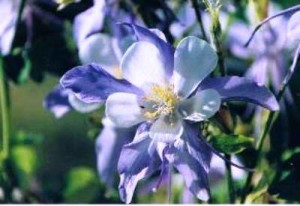 Lush summer pastures offer feed for cattle and horses.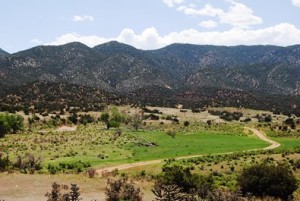 I imagine Lucy's ranch house to look something like this.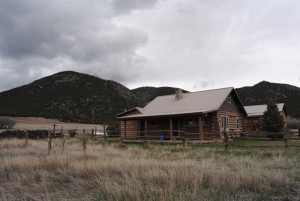 Buck  nearly gets himself in a jackpot with the woodpile.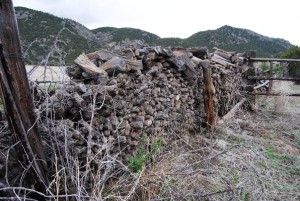 To celebrate the release of The Columbine Bride, I'm giving away two prize packages to two randomly selected newsletter subscribers next week, so be sure to sign up for my quarterly newsletter. You can do that here. The prize package includes an e-book, a packet of Colorado blue columbine seeds, a columbine key chain, and a plaque with the key verse from the story plus a few other goodies. Don't miss out!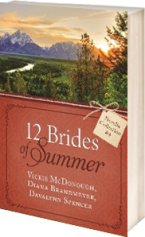 #lovingthecowboy