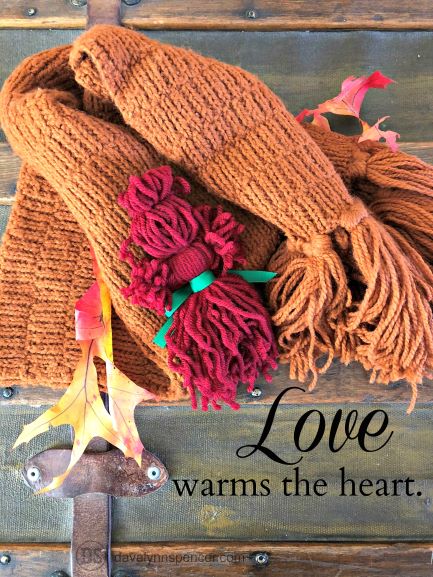 By Davalynn Spencer @davalynnspencer
I knitted once.
Many years ago, I needled my way through a scarf for my soon-to-be-husband, hoping to keep him warm in Colorado's snowy clime while I wintered in temperate California. That scarf was the extent of my knitting career.
When I started writing this year's Christmas novella, Snow Angel, I discovered that my heroine knitted despite her physical challenge. My own knitting experience wasn't enough to help her out, so in order to keep the details realistic, I contacted Ann Goldman, owner of Yarned & Dangerous in downtown Cañon City, Colorado.
I asked Ann if a woman like my heroine, Lena Carver, would be able to knit. Ann and her crew grabbed their needles, assumed Lena's disability, and found a way. Yes – it was possible!
The results of their efforts made it into the story.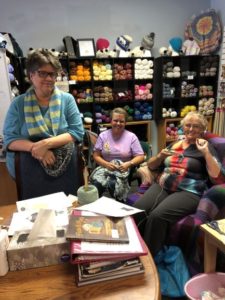 I met Ann when she owned the Christian book store in town, Words of Life. She hosted several book signings for me, and our friendship grew over the years.
With the changing times and demise of nearly every independent book seller, Ann survived with the help of a knitting nook she opened at the back of the store. It became a gathering place where women came with their projects, seating themselves around a large central table, surrounded by walls of colorful yarn and thread. It was a veritable visual feast of color and texture, as well as a safe and soft place to share dreams and heartaches.
The book store has since closed, but Ann's new Yarned & Dangerous thrives at the opposite end of Main Street, just as colorful and just as welcoming. Thanks to Ann and her crew, my heroine, Lena, warms those she loves with the work of her hands. Just like Ann.
"I learned to knit when I was a little girl in school," Ann told me. "Everybody in the class had to learn to knit. And purl. Because we had to rib."
(Whatever that means!)
"We were all working on a project," she said. "Everybody did something with their hands."
Those days of learning a skill one could actually use turned out to be a good investment for the little girl who grew up to raise a family, earn her MBA, and run her own business.
The image at the top of this post shows the scarf I made when I was 19. My first (and last) knitting project and absolutely a labor of love. The little red yarn doll is one I made last week (no knitting required!). It represents an act of love in my novella, something that warms the hearts of children in a small town during Christmas in the 1800s.
Do you have any handmade projects that have figured prominently in your holiday celebrations, or a skill you learned from a grandmother or parent that lovingly warms the heart? Please take a moment and share your experience in the comments below.
~
Love warms the heart.
Click To Tweet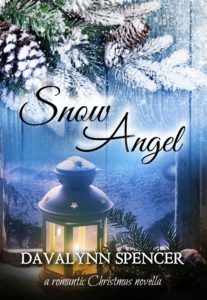 Night edged closer to the house. Lena fed the hearth fire and banked the cook stove for morning, but sleep evaded her. Her knitting called, so she trimmed a lamp near her rocker and settled in for the evening.
The fire crackled, its woodsy warmth a companionable presence as she dug through her scrap yarn, leaving Tay's scarf for later.
Last year she'd made eight yarn dolls for little girls at the church party. This year, two new families had moved to town, their fathers taking jobs at the lumber mill. Each had one girl, but rather than miscalculate or fail to note family visiting from elsewhere over the holidays, Lena chose enough yarn for twelve dolls. Better to have more than she needed rather than too few. No child should be left out of the excitement of peering into a small paper bag and finding cookies, candies, and Christmas surprises—yarn dolls for the girls and wooden tops for the boys.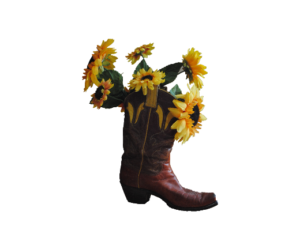 Connect with Ann via her Yarned & Dangerous web site or on Facebook.
Connect with me via Newsletter | Facebook | Pinterest
#lovingthecowboy
(c) 2018 Davalynn Spencer, all rights reserved.
#WesternRomance #ChristianFiction #HolidayRomance