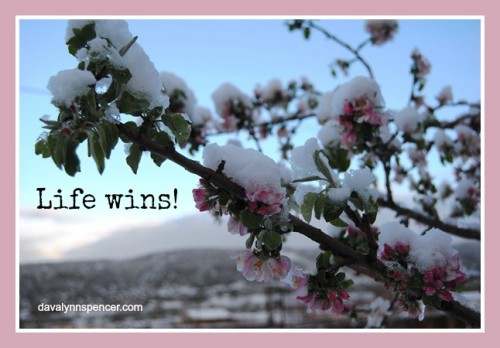 By Davalynn Spencer @davalynnspencer
Colorado weather is such a great life metaphor: Be ready for a surprise!
On Friday my apple and pear trees were in bountiful bloom and by Saturday they were drenched in snow.
However, the world didn't stop spinning. Life doesn't just "go on," it does much more than that. Life wins!
This two-word phrase has become a mantra for me because I see it over and over in the beauties of nature around me.
I also know that our loving Father orchestrates those natural reminders to show us His great faithfulness.
If circumstances drop a heavy spring-like storm of discouragement on you this week, look around and remember His surging, supportive, and comforting presence.
Life wins!
Newsletter | Facebook | Pinterest
#lovingthecowboy