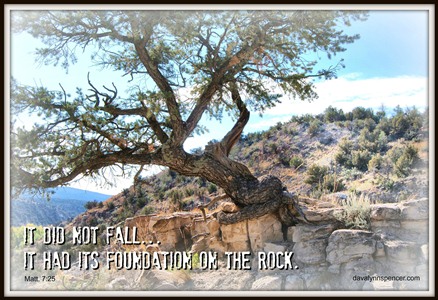 By Davalynn Spencer @davalynnspencer
Winds along Colorado's Front Range this spring have been stronger than ever. We've been pummeled by shuddering gusts that rattle windows and awnings and send wind chimes, lawn chairs, and trash cans flying. Yet in the most brutal moments, I've found comfort in my home's sturdy construction.
Life does the same—it pummels us. Jesus knew this and He told us how to withstand the onslaught. He said if we'd put His words into practice, we'd survive the storms like a house built on a rock.
The picture above is one of my favorites. I took it atop an exposed hill not far from where I live, and I'm intrigued by the tree's roots growing into the rock.
This image reminds me that if I'm rooted and anchored in Him, the Rock of my Salvation, together we can weather anything.
Anything.
Are there images or situations in your life that remind you of God's staying power?
Newsletter | Facebook | Pinterest
#lovingthecowboy