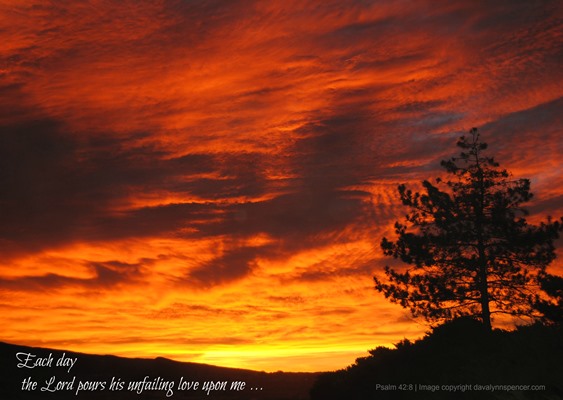 By Davalynn Spencer @davalynnspencer
Fires and floods have ravaged wilderness and communities alike this summer, and many of us know people who have suffered extreme loss.
For some, the fires and floods have been literal scourging flame and sweeping deluge. Others have experienced great emotional loss and pain that has swept into their lives leaving little behind but ashes and mud.
Let us weep with those who weep, lift them in our prayers, and give them aid, remembering with the Psalmist that God is with us in both extremes.
Now I am deeply discouraged,
but I will remember you…
I hear the tumult of the raging seas
as your waves and surging tides
sweep over me.
But each day the Lord pours
his unfailing love upon me,
and through each night
I sing his songs.
Psalm 42:6-8 NLT
~
But each day the Lord pours his unfailing love upon me.
Click To Tweet
Connect with me via Newsletter | Facebook | Pinterest
#lovingthecowboy
(c) 2018 Davalynn Spencer, all rights reserved.
#WesternRomance #ChristianFiction