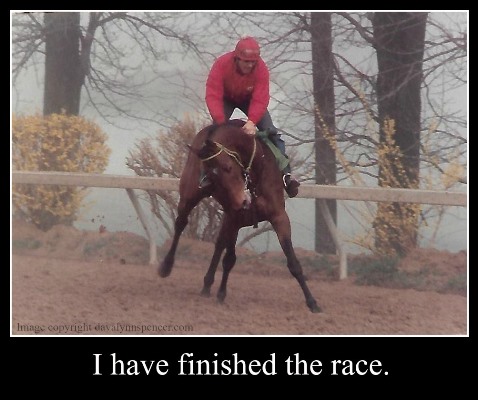 By Davalynn Spencer @davalynnspencer
In the 1980s, during rodeo's off-season, my husband worked with the Race Track Chaplaincy of America, serving as a chaplain five years at Oaklawn Park in Hot Springs, Arkansas. He also spent one race meet at Aksarben (now dismantled) in Omaha, Nebraska, and one meet at Louisiana Downs in Bossier City, Louisiana.
Ministering to the backside community at the track was dear to his heart. He held weekly services, prayed daily with the riders in the jocks' room before the races began, held Bible studies, and talked to, worked with, assisted, and prayed for hot walkers, grooms, exercise riders, jockeys, trainers, and owners.
I took the photograph above at Oaklawn Park early one morning as an exercise rider worked one of the horses. Those were some of our best years. Great friends. Great memories.
Great lessons of life.
My photograph of the exercise rider is simply a place-filler. The image I want to focus on today is copyrighted by photographer, Adam Coglianese of Bob Coglianese Photos, Inc. Please click here to see the incredible picture.
Coglianese's iconic image was taken in the stretch run of the 1980 Tremont Stakes held at Belmont Park in New York and is called "The Savage." My husband didn't chaplain at Belmont Park, nor did we know Coglianese, but in my opinion, this photograph is one of horse racing's finest shots. It is a perfect example of some of the life lessons from our seasons at the track. 
Look at the expression of the horse on the right, Golden Derby. You can see his heart in his eyes.
Golden Derby isn't looking at his attacker, Great Prospector. Nor is he looking away, trying to avoid the assault or hunting a way out. His eyes, head, stride, and body are focused on one thing: running the race.
Look at Golden Derby's jockey—head down, "pushing" the reins (giving the horse its head). Full throttle. Letting this magnificent animal do what it was born and trained to do.
The metaphor is clear.
The Apostle Paul wrote to a young man by the name of Timothy, telling him that he, Paul, had "finished the race." Speaking of living his life for Christ, he also said he had fought the fight and kept the faith. These statements imply struggle.
No one said our Christian walk would be easy.
No one suggested it would be opposition-free.
No one promised that others wouldn't "savage" us, try to stop us, hurt us, push us off course.
But Paul also told Timothy what waited at the end. A crown of righteousness for everyone looking expectantly to Christ.
There's only one way to finish life's race successfully, and that's to not quit. We have God's promise that He will be with us all the way. (Hebrews 13:5)
So which horse from Coglianese's photo won the race?
Golden Derby.
~
No one said our Christian walk would be easy.
Click To Tweet
There's only one way to finish life's race, and that's to not quit.
Click To Tweet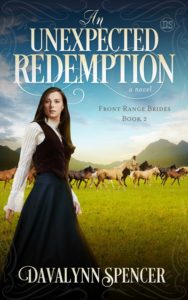 Garrett could light out after the hearing in Cedar City. Find a herd headed to Wyoming and cut a new trail. And leave Betsy behind—exactly like that low-down, lily-livered husband of hers.
Former husband.
He slammed the coffee pot down on the stove, mad at himself for being a coward. If he couldn't tell Betsy Parker what pained him more than anything ever had, then he wasn't man enough to marry her.
Connect with me via Newsletter | Facebook | Pinterest
#lovingthecowboy
(c) 2018 Davalynn Spencer, all rights reserved.