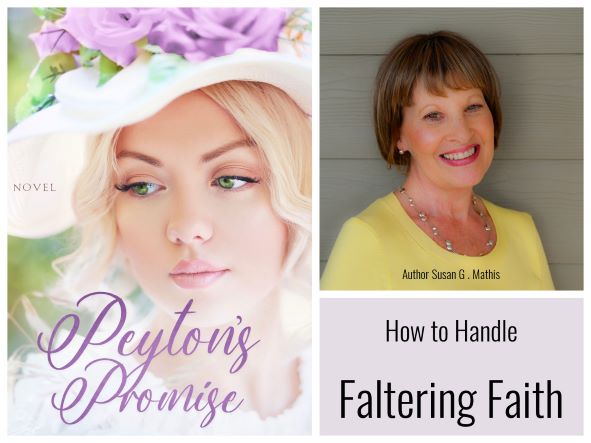 Davalynn Spencer @davalynnspencer
I am happy to welcome author Susan G. Mathis to my blog on this Memorial Day weekend. She survives her husband, Lt. Col. Dale Mathis who served in the United States Air Force 21 years and was a true officer and gentleman.
Susan is sharing a glimpse of her latest novel, Peyton's Promise, from her award-winning Thousand Islands series – a collection of books that carries the reader back to the Gilded Age of wealthy island owners and the lives of their servants. Move over Downton Abbey.
Sometimes we find answers to our real-life questions while reading inspirational fiction. It's the power of story. See what Susan has to say about one such problem.
~
In my latest novel, Peyton's Promise, faltering faith is a main theme. Here's an excerpt. I hope you'll pick up a copy and enjoy the rest of the story.
Rachel smirked. "Back to Patrick. Just because he warns you about things and has opinions different from yours doesn't mean you're not a match. Proverbs tells us that iron sharpens iron. That's what friends—and good marriages—are all about."

Peyton tossed her a kind smile. "You appear to be too wise for your age, my friend."

Rachel shrugged, and a comfortable silence filled the room.

Might she broach another topic? Why not? "Are you a person of faith, Rachel?"

Rachel beamed. "I am. It's what carries me through even the darkest days and toughest times."

Peyton's heart raced, and tiny beads of perspiration formed on her brow. She swept them away with her sleeve. "My faith has faltered of late. I still believe, and I love God. But He seems so distant and silent."

"But He's always here, as close as your very breath—if you love Him and have given your heart and life to Him. The question is, have you stepped away from Him?"

Yes, she'd distanced herself from the Almighty, but how far? Too far? "When I was in Watertown, I was so busy, and all my friends and acquaintances there were not people of faith, so it just … slipped away. I stopped reading my Bible and only went to church on Christmas and Easter. But now, I'm wondering if that wasn't folly."

Rachel slipped out of bed and sat next to her. "We all have our seasons. When Papa died, I was so mad at God that I refused to touch the Bible and pasted my lips shut during church. I wouldn't talk to Him for over a year. Even when Mother made us go to church, I recited poems in my head rather than hear about the God who took Papa from me. But then, I realized that was also folly. I told Him I was sorry, and He filled me with so much love and peace that I haven't been the same since. He can do that for you too. You just have to ask."

Peyton's throat constricted. Her eyes pooled with sorrowful tears. Could Rachel be right? Could it be that simple?

~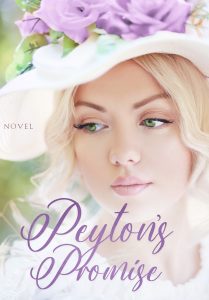 ABOUT PEYTON'S PROMISE: 
Summer 1902
Peyton Quinn is tasked with preparing the grand Calumet Castle ballroom for a spectacular two-hundred-guest summer gala. As she works in a male-dominated position of upholsterer and fights for women's equality, she's persecuted for her unorthodox ways. But when her pyrotechnics-engineer father is seriously hurt, she takes over the plans for the fireworks display despite being socially ostracized.
Patrick Taylor, Calumet's carpenter and Peyton's childhood chum, hopes to win her heart, but her unconventional undertakings cause a rift. Peyton has to ignore the prejudices and persevere or she could lose her job, forfeit Patrick's love and respect, and forever become the talk of local gossips.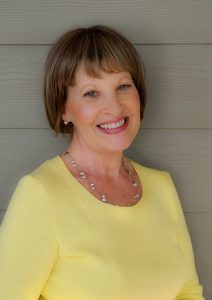 ABOUT SUSAN:
Susan G Mathis is an international award-winning, multi-published author of stories set in the beautiful Thousand Islands, her childhood stomping ground in upstate NY. She has been published more than twenty times in full-length novels, novellas, and non-fiction books. Susan has seven in her fiction line including, The Fabric of Hope: An Irish Family Legacy, Christmas Charity, Katelyn's Choice, Devyn's Dilemma, Sara's Surprise, Reagan's Reward, and her newest, Colleen's Confession. Peyton's Promise and Rachel's Reunion release in 2022 and she's working on book ten. Her book awards include two Illumination Book Awards, three American Fiction Awards, two Indie Excellence Book Awards, and two Literary Titan Book Awards. Reagan's Reward is a Selah Awards finalist.
Susan is also a published author of two premarital books, two children's picture books, stories in a dozen compilations, and hundreds of published articles. Susan makes her home in Colorado Springs and enjoys traveling around the world but returns each summer to enjoy the Thousand Islands. Visit www.SusanGMathis.com/fiction for more.
Inspirational Western Romance – where the hero is heroic.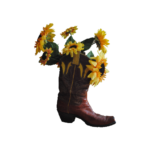 FREE book and Newsletter!
Facebook | Pinterest
#lovingthecowboy
(c) 2022 Davalynn Spencer, all rights reserved.
#WesternRomance #ChristianFiction #FreeBook #HistoricalRomance #CowboyRomance