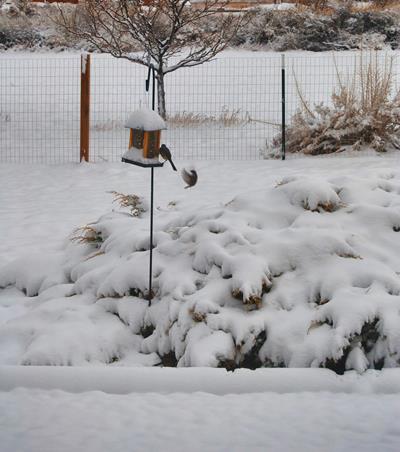 This photograph captures three birds. The first two are obvious; the third one is entering their shelter. Can you spot it?
The snow-blanketed juniper in our back yard is one of many spreading varieties around our Colorado home that offer dry haven to rabbits, birds, and squirrels.
These tree/bushes spread their branches like wings, bending with the weight of the snow while sheltering small creatures that flourish in spite of harsh weather.
God offers a similar protection to His children, and lately I have been burrowing deep and close.
David, the great king wrote:
Because you are my help,
I sing in the shadow of your wings.
My soul clings to you;
Your right hand upholds me. Ps 63:7, 8
Sometimes the birds sing and I can't see them. They're hiding in the branches of their safe haven.
How great a God we have who would give to His people the shelter and protection of Himself.
Try it – sing in the shadow of His wings.
Have you ever pressed so close that you felt the feathers of His presence?