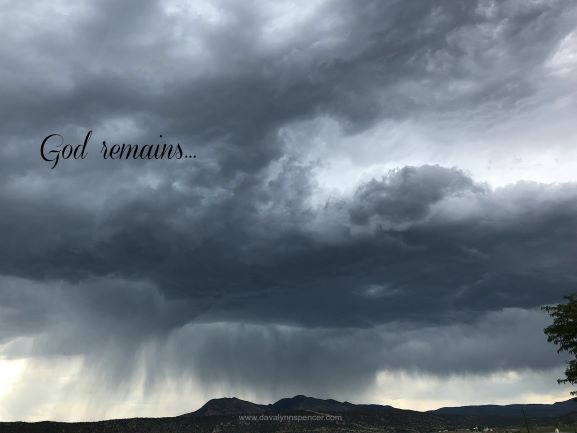 By Davalynn Spencer @davalynnspencer
Have you ever felt like you've lost it all?
Have you ever really lost it all?
Following a recent surprise that completed a trilogy of painful events, a familiar scripture came to me with fresh perspective.
God remains the strength of my heart; He is mine forever (Psalm 73:26).
This time around for this scripture, the emphasis was on the first two words – God remains.
In those two words I found the Lord's comfort: 
When loved ones fall ill and friendships fail, God remains.

When perceived support crumbles and storm clouds rumble, God remains.

When those once close move far away, God remains.
"Don't focus on what you've lost," the Lord seemed to say to me, "focus on what you have."
God remains.
~
Have you ever lost it all?
Click To Tweet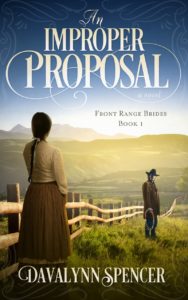 Evidently, Henry had thought the world of Mae Ann. Why hadn't the word beloved registered with her six weeks ago when she read Henry's will the first time?
The endearment had been written before they were even married—which they never were, as Sean MacGrath had charged so cruelly. As if it were a crime. The memory of his cold stare made her shudder. But he was right. She'd never been Mrs. Henry Reiker, in spite of Henry's kind words. What if a judge ruled against her and she lost the farm? ~ An Improper Proposal
Inspirational Western Romance – where the hero is heroic.

Want a free book? Sign up for my Newsletter!
#lovingthecowboy
(c) 2020 Davalynn Spencer, all rights reserved.
 #WesternRomance #ChristianFiction #FreeBook #HistoricalRomance