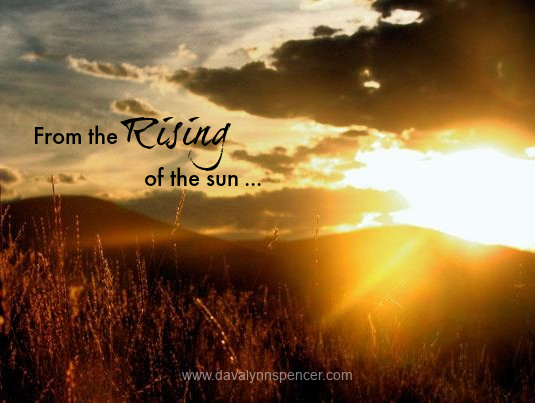 By Davalynn Spencer @davalynnspencer
It's suddenly September. Well, I guess it's not exactly suddenly, but it sure feels that way.
Four weeks ago it was light at 6 a.m. in Colorado and the sun set just after 8 p.m.
Today, sunrise was at 6:34 a.m. and the sun will set at 7:19 p.m. 
An hour less daylight compared to last month? What happened?
Well, it wasn't an "overnight" occurrence similar to what people call the success of musicians, artists, and actors who "suddenly" skyrocket to fame. It was something closer to all the years of hard work those creatives put into their craft.
Here in the northern hemisphere, we've been losing a little daylight ever since the summer solstice on June 21. But in August we lose daylight at a faster pace – roughly two minutes every day, more than an hour by the end of the month.
There is no way I'm going to try to explain Earth's tilt, rotation, orbit, etc., but if that sort of thing intrigues you, check out this Science and Technology page for Middle School designed by the Smithsonian Science Education Center. 
My point to this drawn-out explanation is – sometimes things sneak up on us.
Or do they?
Were they really there all along, and we just didn't pay attention?
Most of us have heard the expressions about watching paint dry and grass grow. Neither activity appears to be identifiable to the human eye, but both are measurable and, given enough time, noticeable.
It's the same way with our spiritual growth – or starvation.
What we feed on – even if it's in itty-bitty bites – becomes apparent over time. What we fill ourselves with eventually produces a type of fruit, whether fretful or peaceful.
The last several months in our world have seen nations, states, and communities stirred, and the ripples are unsettling to many. But unsettling times have come and gone before our days in the sunlight. And the encouraging thing to remember is, none of them caught God off guard.
We may not understand the mystery of His allowances, but we can count on the mastery of His presence.
Grab hold of Him. He's there, so close to you that He usually whispers.
Feed on His promises. Read the comfort He has sent us in His word. The books of Psalms and Isaiah are two of my favorites.
And pray.
Pray for your families and loved ones, community leaders, and governmental representatives – whether you voted for them or not. Pray for yourself, incorporating some of the suggestions from last week's blog post.
Lift up those who risk their lives protecting and rescuing us. Lift up a younger generation that has yet to discover (or remember) the power and presence of God.
And remember, God has seen the world "tilt" before.
He's got this.
From the rising of the sun unto the going down of the same
the LORD'S name is to be praised.
Psalm 113:3
Be strong and courageous. Do not be afraid or terrified because of them,
for the Lord your God goes with you; he will never leave you nor forsake you."
Deuteronomy 31:6
~
God has seen the world tilt before.
Click To Tweet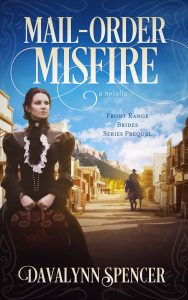 Daylight had ducked behind the buildings on the west side of the street, and shadows stretched along the jail, playing tricks on Bern's eyes. Looked like a woman sat in Wilson's chair out front of the jail. Asleep, with her chin on her chest.
     He stopped his horse at the hitch rail and stepped down. Sure enough, she was sound asleep. More than likely been there all day waiting on him. Just like a woman to make him feel guilty before they even spoke to each other. He pulled his hat off and stepped up on the boardwalk with a heavy boot in hopes he didn't have to touch her to rouse her.
     She obliged him and shot up like a geyser, blinking her brown eyes and tugging at her suit coat. Stark black, the same color as the hat that leaned off to one side. She tried to straighten it and winced, probably from a stiff neck. He knew the feeling.
     "Ma'am. Are you Etta Collier from Independence, Missouri?"
     She squared up and looked him dead in the eye. "Yes, sir. And you are …?"
     Pretty little thing, she was, all trim and put together. No shrinking violet. But appearances could be deceiving.
     "I'm Bern Stidham, ma'am. Sheriff over in Lockton, a day's ride north of here. I apologize for not meeting your train, but a few things came up at the last minute. I'd planned to take a room at the hotel last night and be here to meet you this morning." He was rambling.
     She discreetly gave him a good look-over, hat to boots and back again, pausing at the Peacemaker on his right hip. He wished he'd shaved. ~Mail-order Misfire
Inspirational Western Romance – where the hero is heroic.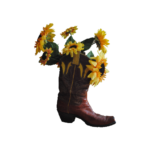 Want a free book? Sign up for my Newsletter!
#lovingthecowboy
(c) 2020 Davalynn Spencer, all rights reserved.
 #WesternRomance #ChristianFiction #FreeBook #HistoricalRomance