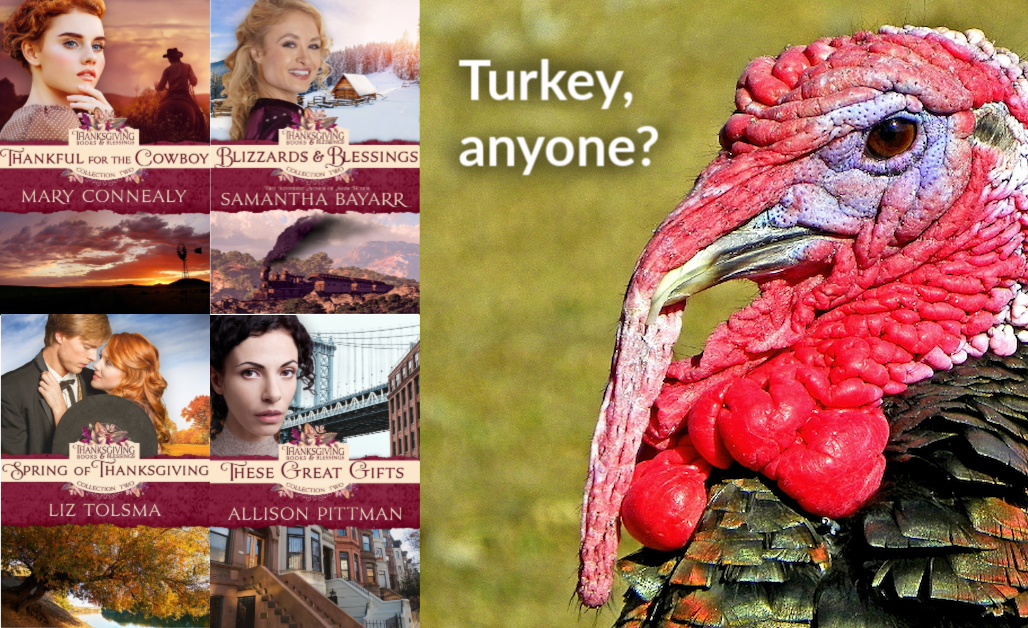 By Davalynn Spencer @davalynnspencer
Today is officially the first day of autumn, and I want to whet your appetite for turkey – or whatever you'll enjoy a couple of months from now on Thanksgiving – though if I had to wrestle the guy pictured above for a drumstick, I might opt for a veggie-burger.
The four lovely book covers also pictured serve as appetizers for what awaits below—the other novellas that join mine in the recently released Thanksgiving Books & Blessings Collection. (Book 1 in the collection, Texas Tears, was spotlighted in the Aug. 19 interview with author Caryl McAdoo, and I introduced my novella, Mail-order Misfire, on Sept. 2.)
Read on for a delectable selection of inspirational historical romance sure to warm your heart with thankfulness and blessings.
Happy reading!
Book 3 – Thankful for the Cowboy, by Mary Connealy
Hero Tom MacKinnon rides up driving a wagon with a second wagon trailing him. He and his sister want to be hired to build windmills. They'll ask for very little money and, in exchange, heroine Lauren Drummond, newly widowed mother of four nearly grown sons, will help them learn to survive in the Sandhills of Nebraska. What to grow, what to hunt, how to build a sod house.
Tom's windmills will save her ranch. Lauren needs three windmills on this drought year, or her growing herd of cattle is going to die of thirst. She agrees to teach him the ways of the Sandhills, and to give him fifteen head of cattle. She's not ready to think of another man. But Tom changes her mind. His little sister and one of her sons find love together before Tom and Lauren do. Purchase here.
Book 4 – Blizzards & Blessings, by Samantha Bayarr
An Amish Mail Order Bride? That's not what Muley Tucker thought he was getting when he began to correspond with Emma Jane Miller. She shows up in Silver City, Nevada, a wild mining town, to be Muley Tucker's mail-order bride. The only problem is, she left out one LITTLE detail about herself: she's Amish.
Muley doesn't take too kindly to being tricked and tries to send her on her way before the miners show up to give him his daily ribbing. Because of being a pig farmer, he's the joke of the town. If he marries Emma, he'll be in for more teasing. With no money to return home and Muley's refusal to honor the marriage contract, Emma Jane must stay in the boarding house until the stage comes back. Can they put differences aside for Thanksgiving? Purchase here.
Book 5 – Spring of Thanksgiving, by Liz Tolsma
Book Five of the Thanksgiving Books & Blessings Collection. When Ivy Cooke discovers the extent of the debt on her father's Texas ranch, she vows to do whatever it takes to save her late brother's legacy for his son. But when new neighbor Dell Watson and his family claim they own the Cooke's spring, the fight gets ever harder, especially in the midst of a deep drought.
To prove his worth to his father, Dell puts a plan into motion to woo Ivy and her spring. What he doesn't count on his falling in love with her. Will the spring bring them together or tear them apart forever? Purchase here.
Book 6 – These Great Gifts, by Allison Pittman
When a feisty baseball fan meets her favorite baseball hero, romance is just around the base.
Vittoria Carmello is the youngest daughter of Italian immigrants, living in Brooklyn, NY. When she's not working in the packaging room at Macy's Department store, she's reading a novel, or following the progress of her favorite baseball team, the Brooklyn Bridegrooms. And, when they seem to need a little help, she crafts helpful letters to her favorite player, Jeb Martin. Of course, she signs them "Vito," because no baseball player would ever listen to advice from a girl.
Then, one night, a knock at the door of the Carmello's 3rd-floor walk up brings a completely unexpected surprise. Jeb Martin himself, battered, bruised, and escorted by a local policeman, her latest letter in his coat pocket. He's the victim of an assault by a group of hooligans, and the return address on the envelope served as the only clue the cop had to bring him "home."
What follows is a bit of a scandal, a bit of a friendship, a bit of baseball, and extra innings of romance. Purchase here.
Turkey, anyone? Four great autumn reads full of thankfulness and blessings.
Click To Tweet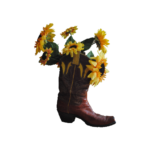 Sign up for Davalynn's Newsletter and get a free book.
#lovingthecowboy
(c) 2019 Davalynn Spencer, all rights reserved.
#WesternRomance #ChristianFiction #FreeBook