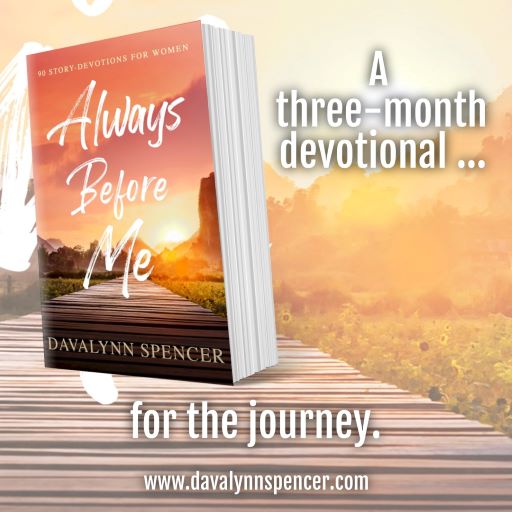 By Davalynn Spencer @davalynnspencer
The psalmist wrote:
"I have set the Lord always before me;
because He is at my right hand, I will not be moved"
(Psalm 16:8).
With God as his focus and companion, the psalm-singer knew he would not be shaken off his path.
This scripture has been a life verse for me, and it titled a thirty-day devotional book that released ten years ago. Since then, many readers have asked for more of the story-devotions that I love writing in this blog, for The Upper Room, The Quiet Hour, Guideposts publications, and elsewhere.
At last, the second edition of Always Before Me is available with ninety devotions – three months' worth of brief, daily inspiration that includes the original thirty.
We each walk a path. God knows the many things we do and He is willing to meet us in every situation. Always Before Me is a simple observance of how He does that, and how He speaks to us through our daily circumstances and ordinary surroundings.
The book's subtitle addresses women, but men have also enjoyed the writings. However, with Mother's Day approaching, this devotional could offer encouragement to a mother, grandmother, aunt, or daughter. Think about the women in your life who have given you motherly treasures. They may not be your mom, but you can thank them for their encouragement, council, and direction by giving them a timely companion for the journey.
Always Before Me is perfect for personal quiet time. If you are interested in securing a copy, do so now while it is offered at a special release discount. The price increases May 1.
I pray that you will set the Lord always before you. And may all that you read be uplifting.
~
For the Journey
Click To Tweet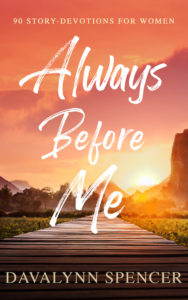 When my husband and I were first married, we had a two-in-one flashlight. It was equipped with the standard high-beam light that shone from one end like most models, but it also had a softer, more radiant light that spread from a second bulb along the top.
One evening I took the flashlight outside for a trek to the barn. The standard beam lit the path ahead, punching through the dark toward my destination. I switched to the second light and it illuminated my steps and the area right around me, spreading into the shadows on either side. But I couldn't have both lights on at the same time. I had to choose one or the other.
As I walked, a familiar verse from the Psalms came to mind: "Your word is a lamp to my feet and a light for my path" (Psalm 119:105). Suddenly, I understood the metaphor.
God's wisdom shows me the path ahead as well as the ground beneath my feet. It is not limited like my hand-held flashlight that required an either-or choice. His Word sheds the light of understanding in both ways at the same time. His Word is indeed a lamp to my feet and a light to my path.
The Psalms also tell us, "You, LORD, keep my lamp burning; my God turns my darkness into light" (Psalm 18:28 NIV).
That's exactly what I need in this life of unforeseen obstacles and sudden shadows—a never-failing power source that faithfully shows me the way to go and how to get there.
The Lord's light cuts through my darkness, and the lamp of His love envelops me with the comfort of His presence.
Thank You, Lord, that there is no darkness in You, that Your light directs our steps. Amen. 
From Always Before Me, Day Six
Inspirational Western Romance – where the hero is heroic.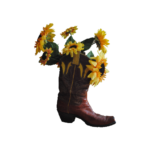 FREE book and Newsletter!
#lovingthecowboy
(c) 2022 Davalynn Spencer, all rights reserved.
#WesternRomance #ChristianFiction #FreeBook #HistoricalRomance #CowboyRomance