By Davalynn Spencer @davalynnspencer
When my husband and I set out on the rodeo circuit (with our small children) people told us we were crazy.
"Wait until your kids grow up," they said.
"How can you haul your children across the country like that?" they said.
"What about a normal lifestyle – like a playhouse for your daughter?" they said.
Thank God we didn't listen to those people who couldn't see our vision.
When we listened to God instead and followed His leading, He provided everything we needed and more.
Today we have friendships that I would not trade for all the "normal" the world has to offer. Our children have traveled to a majority of the fifty states, had experiences very few others would even dream of, and learned what it means to be a family.
Thank God, we pursued our dream.
What's your dream?
Take it to God and get His word on it. He has options you haven't thought of.
Pull up a chair in His presence and get comfortable. Take delight in Him, settle in, and listen to what He tells you.
Then do what He says.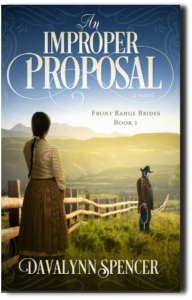 What glory she'd not known existed. What life even her dreams had never imagined. ~from An Improper Proposal
Connect with me via Newsletter | Facebook | Pinterest
#lovingthecowboy
(c) 2017 Davalynn Spencer, all rights reserved.