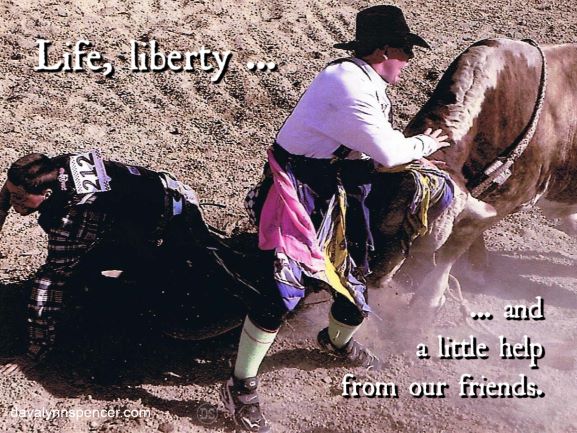 By Davalynn Spencer @davalynnspencer
For my family, equating the Fourth of July with rodeo is a long-standing habit. Yes, we've barbecued and sometimes watched fireworks, but when our kids were growing up, we never celebrated at the house. We didn't have a house.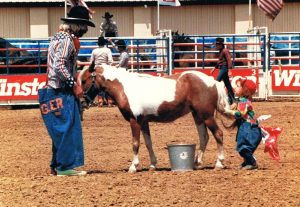 We had a 16-wheel rig that we parked behind the bucking chutes and lived out of before, during, and after the rodeo. It was our 45-foot home/tack-room/barn on wheels.
Tiny-House has nothing on us. Been there, as they say.
After a performance, we'd hang out at the rodeo grounds, eating the world's best beef steak at the Red Lodge, Montana, Rodeo of Champions (courtesy of the rodeo committee every year). Or we'd pool our fixin's with the Linger Rodeo Company family into a big potluck that Bess Linger called "Fall Out."
"Open your fridge, and bring whatever falls out," she'd say.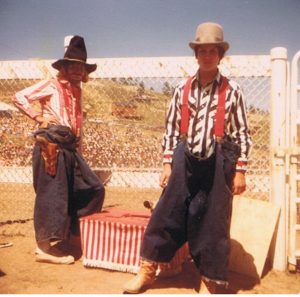 Sankey Rodeo Company was another family-run outfit we worked for, as well as Flying U Rodeo with Cotton Rosser out of California, and others. Wherever we were, we were always with family.
A lot of rodeo folk call this time of year Cowboy Christmas, because there are more rodeos going on in this two-week period than any other time of year. For competitors who can travel cheap and fast, there is money to be made.
But regardless of the time of year, there's always a lot of red, white, and blue at a rodeo. Patriotic people, those cowboys and cowgirls. However, independence isn't always what they're looking for.
Independence is great when it comes to governments, kings, and countries. But you won't find an independent-minded bull rider at a rodeo. Each rider depends on the bullfighter to get him out of a jackpot (trouble), or to be close by in case of a hang-up (literally hanging up by one hand in the bull rope.)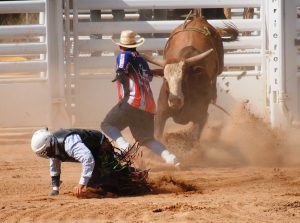 Aren't we the same? Not quite as self-sufficient as we'd like to think?
I'm grateful for my independence—for liberty, for freedom. But I'm also grateful that I can depend upon my Lord, family, and friends. I'm thankful I can depend on law enforcement and first responders if I get in a storm.
But above all, I'm dependent upon God for His faithfulness, mercy, and blessings.
Jesus said there would be a few hang-ups in life. But He encouraged us to not lose heart because He has overcome everything there is to overcome. He also said the truth would set us free. I'm dependent upon Him for that truth.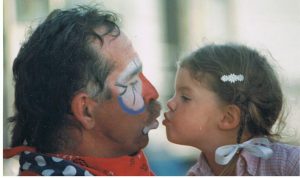 We have much to be thankful for in this nation, including life, liberty, and a little help from our friends. Let's be sure to thank our God and the men and women around us upon whom we depend to keep our country, our homes, and ourselves safe and free.
What are you grateful for as we celebrate freedom this year?
~
A little help from our friends.
Click To Tweet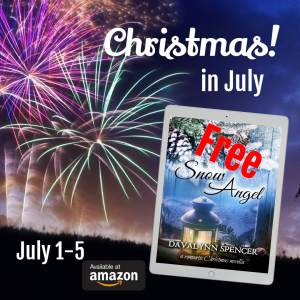 Now that you know what Cowboy Christmas is, maybe you'd like a little more Christmas in July. If so, grab your free copy of my Christmas novella, Snow Angel, all this week at Amazon!
Connect with me via Newsletter | Facebook | Pinterest
#lovingthecowboy
(c) 2019 Davalynn Spencer, all rights reserved.
#WesternRomance #ChristianFiction