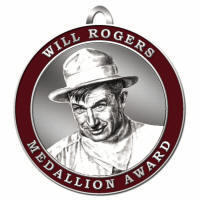 I have always admired the wit and wisdom of humorist, author, and actor Will Rogers—the cowboy philosopher from Oklahoma. He was also pretty handy with a rope and you can see a sampling of his work on this 3-minute video: Watch here.
When I heard about the Will Rogers Medallion Award for outstanding achievement in Western literature, making the list of finalists became a personal goal. So you can imagine how honored I was to recently learn that the third book in my Cañon City historical collection, Romancing the Widow, was named as a finalist in the WRMA Inspirational Fiction category. A complete list of categories and finalists can be found on the WRMA Facebook page, and you can read more about the award on their website.
To celebrate, I'm giving away a signed copy of Romancing the Widow. Details at the end of this post.
The  hero in Romancing the Widow is a Colorado Ranger named Haskell Tillman Jacobs. Tillman was my maternal grandfather's name. He wasn't a Ranger, but he spent some time in Cañon City in the 1920s, and it was fun working a bit of family history into the story.
As a Will Rogers fan over the years, I've collected many of his pithy sayings. Here are ten of my favorites: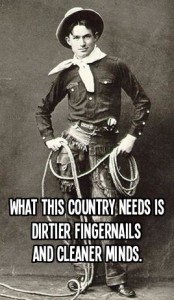 1. A difference of opinion is what makes horse racing and missionaries.
2. A man only learns in two ways, one by reading, and the other by association with smarter people.
3. Buy land. They ain't making any more of the stuff.  (My dad liked that one.)
4. Don't let yesterday use up too much of today.
5. Even if you are on the right track, you'll get run over if you just sit there.
6. People who fly into a rage always make a bad landing.
7. The best way out of a difficulty is through it.
8. The farmer has to be an optimist or he wouldn't still be a farmer.
9. Worrying is like paying on a debt that may never come due.
10. What the country needs is dirtier fingernails and cleaner minds.
Do you have a favorite Will Rogers or other cowboy saying? If so, I'd love for you to share it is in the comment section. If not, let me know which one of my ten you like the best.
And if you'd like your name added to the drawing for a signed copy of Romancing the Widow, just mention it in your comment. I'll be choosing a random winner on July 5.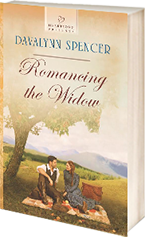 Until next time, remember:
You've got to go out on a limb sometimes
because that's where the fruit is. –Will Rogers
A cheerful heart is good medicine. Proverbs 17:22
#lovingthecowboy