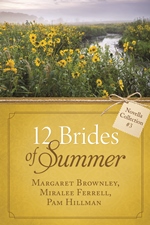 If you've been following The 12 Brides of Summer, then you'll know half of the twelve stories have been released.
Book 3 is now available for download on your e-reader with three more summer-bride novellas.
Stories include:
Dog Days of Summer Bride by Margaret Brownley
Music teacher Miralee Davis and blacksmith Tom Colbert don't realize they've been sharing the same dog until. . .it digs up a stash of stolen loot. The reward will go to the dog's owner—if only that can be decided.
The  Dogwood Blossom Bride by Miralee Ferrell
Gracie Addison is a tree-climbing tomboy, and practical Will Montgomery objects to her unladylike influence on his niece. Will his judgmental attitude come back to bite him?
The Lumberjack's Bride by Pam Hillman
Chicago transplant, Lucy Denson cooks for a logging crew in the Mississippi backwoods until she can return to her idea of civilization. Can Eli Everett help her rethink her ideals?
For historical fiction readers, The 12 Brides novella collection is perfect for a lazy summer afternoon read. Get your copy today, and send one to a friend.
The final installment, Book 4, releases just as summer flies out the door on September 1, but is available for pre-order.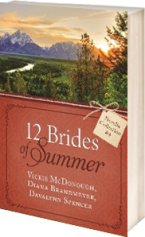 Happy reading!
#lovingthecowboy