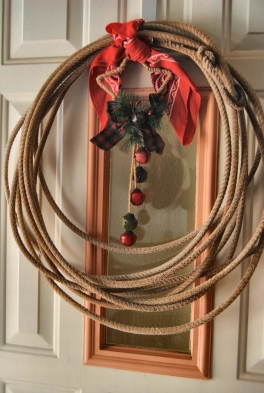 I just finished decorating for Christmas. Seems I put up less each year, but some things are a must:
The old plaster nativity set I had as a child, complete with one wise man's chipped off nose and Joseph's empty hand that held a long-lost staff.
The coiled-rope door wreathe – one of my husband's old team-roping ropes spruced up with a red bandana and jangling sleigh bells.
My collection of rocking horses.
A small tree full of miniature white lights, topped by a hand-made "country" angel.
This year several inches of snow outside my door add to the Christmas atmosphere. But I wouldn't enjoy it nearly as much without the cozy fire in the wood stove and a cup of hot cocoa.
It's contrast that makes the moment.
 Quiet in the rush. Warmth in the cold. Lights in the darkness. The king in a stable.
 May your Christmas be filled this year with quiet, warmth, light, and the King of kings.
For unto you
is born this day
in the city of David
a Savior,
which is Christ the Lord …
Glory to God in the highest,
and on earth peace,
good will toward men.
Luke 2:11