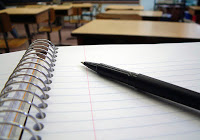 For years I told my own children and students at school that there is no such thing as a stupid question. I've changed my mind.
Too many times one of those aforementioned youngsters posed the query, "Is this good enough?"
If they have to ask, the answer is always no.
OK—maybe that's not a stupid question, like "How much do you weigh?" But it's certainly an annoying and unnecessary question.
In the context of effort, "good enough" insinuates that whatever "it" is could be better. "Good enough" usually means the inquisitor wants me to settle for something less than his best.
Students asking if their paper is good enough are really saying their penmanship could be neater and the story could be longer. My young son and daughter asking if the results of their chores were good enough were telling me the toilet could have been cleaner, the leaf bags could have been fuller, and that yes, some of the bowls in the dishwasher were facing up, not down toward the water.
I'm not saying every result must be perfect. Perfectionism drives people away and leaves the perfectionist frustrated. A 6-year-old cannot accomplish what a 16-year-old can, nor should she be required to do so. But I am saying that every effort must be one's best. No half-hearted attempts.
Please don't confuse this idea with the advertising world's attempt to make us buy bigger, more expensive products. Bigger is not always better, and more is not always best.
But when it comes to
giving, sharing, working and helping,
"good enough" short changes the whole process. Something is missing.
In 2013 I want to give God my best, not my almost-best. Every day He gives me 24 hours. Never once has He said, "Twenty will do."
At creation, the Creator said, "Let there be light," not "Let there be just enough light to get by."
And on His way to Calvary, Jesus didn't pause, look up to heaven and say, "Is this close enough?"
My best won't be flawless in this new year because I am human. But I don't want to fall back on half-heartedness. Why offer a good-enough effort when I can give the finest that I have?
Please visit this site to hear a most magnificent song of God's best for us, then just click on the video.
"… be transformed by the renewing of your mind. Then you will be able to test and approve what God's will is—his good, pleasing and perfect will." Romans 12:2 NIV