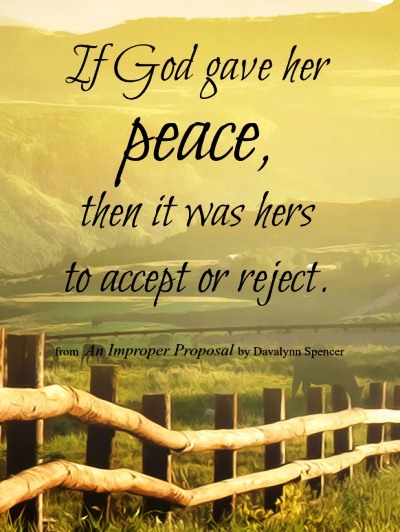 By Davalynn Spencer @davalynnspencer
Authors are often asked how much of themselves they write into their characters. I've never been quite sure how much of an answer to give.
A person typically writes from his or her heart, so naturally, pieces of that heart are floating around in the story. A piece here … a peace there.
In my latest book, An Improper Proposal, Mae Ann Remington's unusual wedding culminates with the pastor pronouncing the priestly blessing found in Numbers 6:24-26:
The Lord bless thee, and keep thee;

The Lord make his face shine upon thee,

And be gracious unto thee:

The Lord lift up his countenance upon thee,

And give thee peace.
The last line catches Mae Ann's attention, and she realizes that she has a choice to make:
In the midst of an uncomfortable and unexpected situation, would she accept God's gift of peace or refuse it?
Mae Ann might be a fictional character, but she grapples with a very real choice that each of us face on a daily basis.
God doesn't force his peace upon us, He holds it out to us. Jesus reiterated the gesture when He said, "My peace I give to you" (John 14:27).
Like Mae Ann, we can either trust Him to make good on His word, or clutch our worries and fears in white-knuckled fingers and miss out on what He's giving.
~~~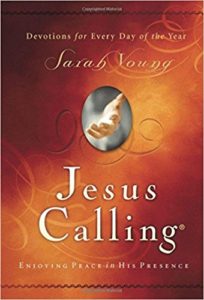 One of my favorite devotional books is Jesus Calling by Sarah Young. Over and over, the brief daily thoughts remind the reader that the peace of God's presence is a most precious commodity.
Connect with me via Newsletter | Facebook | Pinterest
#lovingthecowboy
(c) 2017 Davalynn Spencer, all rights reserved.